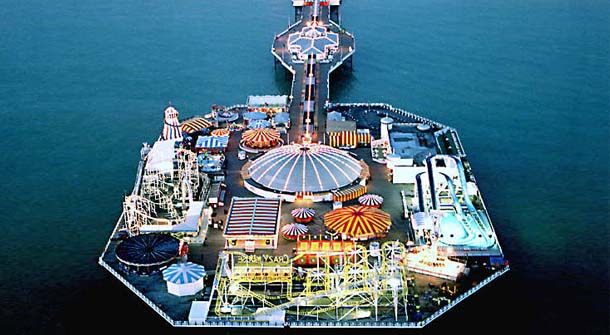 The world has arrived in London for the 2012 Summer Olympics. And while the focus will be on one of the world's most prominent cities, there's a great summer hot spot just a few kilometers south of the games, Brighton Beach.
Vacation at London's Brighton Beach
Quite unlike the U.S. version of Brighton Beach (in Brooklyn), the original Brighton Beach in the U.K. is a perfect mix of European history and charm and contemporary fun in the sun. Often referred to as Brighton and Hove (an adjacent beachside town), the area is a favorite destination of Londoners and other Brits, as well as visiting Europeans. Known for its picturesque boardwalk, breathtaking pier, and winding lanes of shops and restaurants, Brighton is an English coastal classic sure to delight any visitor.
Where is it and where to stay?
The entire city faces the south coast and the English channel, and due to its compact nature, nearly all accommodations are within walking distance of the beach and other points of interest. Choose from the posh Umi Hotel Brighton, directly on the seafront; or the luxurious updated suites of the Kings Hotel... or do what the locals do... and consider a B&B or guesthouse like Brighton Pavilions (with themed rooms) or Snooze (a fun, funky guesthouse). You can also search for hostels and vacation rentals for additional cost savings or extended stays.
What to do?
As for the beach, you'll need to be prepared for year-round chilly waters and what's called a "shingle" beach – which means smooth rounded stones instead of sugary sand. But this doesn't mean you can't enjoy the shoreline. Even if you're used to Caribbean shores, you'll find Brighton excels at the beach-chair and chaise lifestyle. And the cool breeze off the ocean keeps days from feeling sweltering hot (just don't let it trick you into skipping sunscreen).
The Brighton Pier
Right on the beach, or rather, extending out from it is the Brighton Pier (also known as the Palace Pier). This enchanting Victorian Pier is like a step back in time with amusement park rides and attractions, a midway arcade, and a selection of restaurants and bars. Helicopter rides are another popular activity as are strolls through "The Lanes" – the many winding narrow streets of eclectic shops, antique stores, chic eateries, pubs and more. You can also find a number of small casinos specializing in blackjack, poker, and (at times) roulette. Theatre, comedy, live music, dancing and other nightlife is plentiful. Batting cages, bounce houses and other indoor/outdoor play areas can be found for those traveling with children.
Easy to get around
You won't need a car in Brighton, so just hire a car from London (cheaper if flying into Gatwick airport instead of Heathrow) or take any number of trains or buses going into Brighton several times daily. From Gatwick, it's only a 30-minute ride, from Heathrow about an hour, plus a quick connection via the London Underground.