How Music Improves your Workout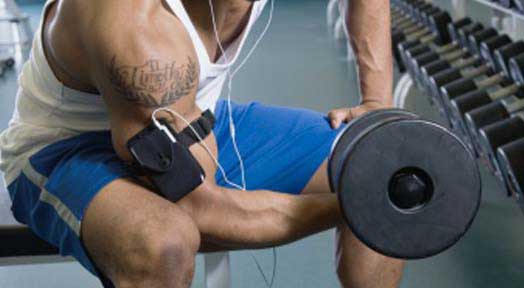 We have all at some point been exposed to music during our workout. Whether it's listening to the iPod during our daily walk or jogging or at home doing the chores while playing the stereo to our favorite jam. Now scientific research has confirmed that music improves your workout and enhances the performance and endurance of our exercise routine.
How music improves your workout performance
In addition researchers have discovered that certain types of music will have an increased effect than others. Specifically music tracks containing a minimum of 140 beats per minute have been observed to produce the maximum results during a workout. Fast or fast tempo music has been observed to provide the listener with a vast amount of information for the brain to process which inadvertently distracts the person from the physical sensations and signs of fatigue which are the body's natural warning signs to stop exercising.
Is workout music right for you?
Exercise enthusiasts who are more advanced and are trained to exercise at an intense level may not find listening to music to have that much of a great impact to their workout. On the other hand the experience of the average beginner who at most will maintain a workout routine three to four times per week may benefit greatly from adding music to their workout routine. Moderate to beginner exercisers will find listening to music as a kind of a pleasant distraction helping them to achieve a sense of motivation and commitment to an otherwise seemingly boring routine.
Improved Mood
Workout music has one of the most powerful and positive effects on a person's mood which plays a vital role in increasing the performance and endurance levels during a workout. With scientific research now able to sustain this fact, many enthusiasts have used this information to their benefit by increasing the frequency of their workout by listening to tunes that stimulate their senses and boosts their performance. By implementing this feature within the everyday workout has successfully transformed the average workout from the sometimes dreaded routine into greatly anticipated chore.
More Energy
Exercisers who have used training exercises as a part of their diet and weight loss program have found this information very useful and have found that by listening to their favorite tune during their workout has provided them with an added jolt of positive energy to continue through their workout especially when they are faced with difficult obstacles. Listening to music during the winter months has allowed many exercisers who would have normally dreaded the thought of face the blistering cold to be filled with excitement and overwhelming enthusiasm to go out even on occasions when it might be dark outside.
The art of music
The art of listening to music has been used in restaurants, in weddings, birthday parties, clubs and almost every known memorable event to peak a person's natural senses to a point of enjoyment providing an enriched experience and lasting memories. If such lasting and wonderful benefits are achievable by listening to music during these events, then it is only logical and now scientifically proven that these benefits can be applicable to the daily physical workout. If the average person using an exercise program, regardless of their fitness level can attain the maximum results in their workout by naturally increasing the intensity and frequency of that workout then by all means, if music is the key then play on.
Most Recommended