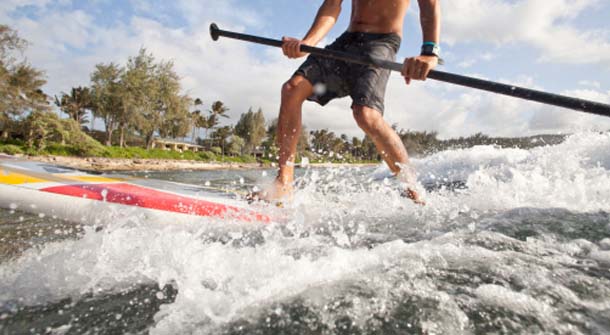 Stand up Paddle Boarding is a fast developing sport and a fun way of playing on water. By using minimum equipment, an individual can paddle in just about anywhere from oceans, lakes to rivers and lakes without the assistance of waves. Paddle boarding also provides an opportunity for full body workout; it is growing as cross-training exercise of choice for snowboarders, skiers and other athletes. Because the body stands at full height, you can enjoy perfect view of all things in the sea horizon.
How you can try your hand at Stand Up Paddle Boarding
History of Paddle Boarding
Stand up Paddle boarding combines surfing with canoeing or kayaking. The game originates from Hawaii and it involved surf instructors standing on long boards to watch their students. The sport provides you with a better perspective of the water. Your upright position gives your body a full workout and the width of the board makes balances easy hence enabling you to be in a similar meditative as paddling water in a canoe.
The growing popularity of the game is because it is easy to learn, with beginners spending just an hour to train and learn. The sport, in its modern state started in 1960 when the technique was used by surfing instructors to position themselves for photograph taking. Nowadays it is a popular pastime although most surfers have today adopted the sport due to its versatility. Stand up Paddle boarding provides surfers with the ability to catch many waves in a set.
How can you try Paddle Boarding?
The most popular form of this sport is the river Paddle boarding; this is because of the agility and skill needed to navigate obstacles and rapids. The paddles are constructed using fiberglass, carbon and wood with flat blade on one end that links the handle by smooth shaft.
The following are the equipment that are needed in order to enjoy the sport:
Stand up Paddleboard: This is the most important gear. The size of the Paddleboard depends on the experience and the weight of the paddler. For light and experienced paddlers, you can choose narrower boards while inexperienced and novice paddlers, wider, stable and wide boards are required.
The Paddle:
This has an angle on the shaft to allow for maximum efficiency. You should choose a paddler that is 6-8" taller than yourself.
Personal floatation device:
Since Paddle boarding is considered as a vessel it is advisable to wear a personal floatation device when paddling in navigable water.
Protective devices are also advisable while paddling. Depending on the conditions, wet or dry suit and shorts or T-shirts are recommended. To protect yourself from the sun, wear sunglasses or sunscreen.
For individuals who are new to Stand up Paddle boarding, it is recommended to start in flat or calm water that is devoid of obstacles like buoys and boats. Beginners also should lay on the board as opposed to standing upright. Paddleboards appear like large surf boards but there is no need for waves for you to enjoy the sport. Flat water is necessary when building your skills.