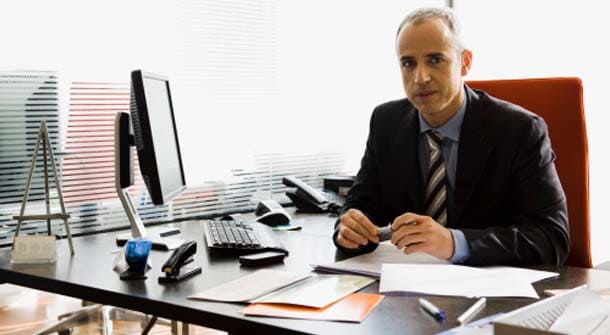 You spend at least as much time in your office as you do at home, so the least you can do is make it comfortable for yourself—and that means personalizing it to your specific tastes. However, it is an office, so throwing a Big Mouth Bass up on the wall and setting up a pool table in the corner might be frowned upon. So how do you make your office yours and keep it professional? Fortunately, we've got some tips to help you make your space something you and the corporate gurus above you can all live with.
1. Consider the line of business you're in, and choose décor that reflects it.
If you design toys for a living, you might want to have a few ultra-cool toys on your desk, and colorful artwork that reflects a creative spirit. If you're a travel agent, you might want to set a globe or model ships and planes on your desk, and frame some awesome photos of cities around the world for your walls. Shop around and find things that reflect your work—in your own style.
2. Consider the company you work for.
While you don't have to plaster your walls with propaganda, you should always consider your company's values, tone and vision, and stay firmly within that framework. Your personal stamp comes second.
3. Choose furniture that's stylish, inviting and mainly neutral.
Opt for clean lines, and avoid getting anything that looks cheap, flimsy or uncomfortable. A mix of wood and stainless steel works well. You can add a couple of "character" pieces, like a cool chair or a funky sculpture, to show off your personal style. But keep it tasteful and low-key.
4. Choose three or four colors, and stick to them.
Unless you work in a creative field that encourages self-expression—and almost requires you to show off your creative side—choose professional colors like navy, brown, white or black as your main colors, and add other small "pops" of color in your accessories.
5. Choose wall art carefully.
The artwork on your walls should be eye-catching and expressive. It should blend well with the décor in the rest of the room. It can, and should, reflect your personal taste, and it should be something you enjoy looking at. However, it shouldn't be too bright, too distracting, or too strange or subversive. The last thing you need during an office meeting is for people to lose focus because they're trying to figure out what in the world that painting means. Your pieces should have as much universal appeal as possible, without being generic or boring.
6. Punch up your space with accessories.
Just don't go overboard. A cool-looking lamp, a nice rug, some interesting books in a unique bookshelf, and some neat gadgets or knick knacks on your desk for visitors to admire should do the trick. Keep it classy, and keep it PG. Never choose anything that's even slightly racy or offensive. If you'd be embarrassed if your mother saw it, or you wouldn't let your eight-year-old nephew look at it, it doesn't belong in your office.
7. Limit personal photos and achievement plaques.
Don't litter your whole desk with photos of your girlfriend and dog, and don't cover a whole wall with every achievement you've made since the seventh grade. Choose one or two photos (three at most) of family members for your desk, and choose just a few of the most relevant and most recent plaques for your wall.