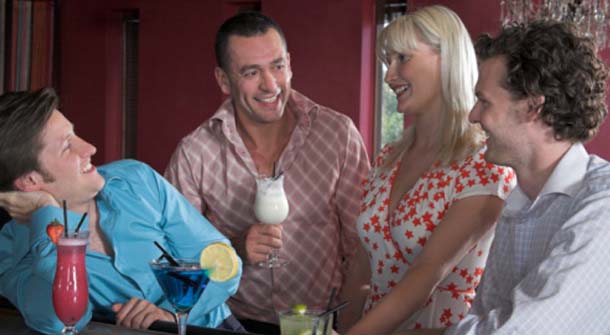 For some people being popular comes like second nature; they flit and mingle through the crowd, garnering everyone's eye and attention as they become the hit of the party. However, for others being popular at a bar isn't as natural and it takes a little effort to draw people's attention and to be the guy that the women flock to. Luckily, with these tips on how to be popular at a bar you'll be on your way to being a hit at any bar scene very quickly.
Tips on how to be popular at a bar
Know Your Limits When Drinking
Sure alcohol is one of the main attractions when it comes to a bar, but the more you drink the more your charisma and popularity is going to fade. If your goal is to be popular and to attract women drinking should take a backseat to those goals, so throw back a few shots or a couple beers, but once you hit your limit start doing shots of water instead of vodka and while everyone else is slurring, drunk and falling over you'll still be able to hold an intelligent conversation and get the number of the pretty woman who's had your attention all night.
Have a Few "Tricks" Up Your Sleeve
Entertaining the masses at a bar can be a little difficult with competition from naturally charismatic guys vying for your audience so it's smart to have a few tricks up your sleeve to keep their attention such as old-fashioned bar tricks. Take a little time before going out to practice one like the Matchstick Trick where you bet someone that you can toss a paper match and get it to land on its side… it sounds impossible and will get the attention of your group really quick, allowing you to entertain them with your "natural" charisma.
Get the Crowd Involved
Instead of just talking their ear off or being the center of everything, be popular by getting things started and involving people around you. Getting the crowd involved such as having a big drink game, leading off a rousing rendition of an Irish pub song, etc can get everyone involved and allow you to draw their attention without seeming too obnoxious or eager for them to pay attention to you.