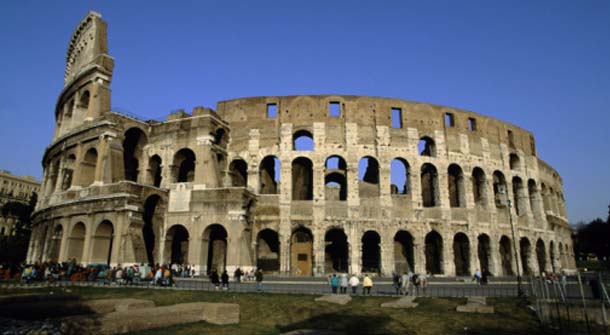 When the New Year roles around we all have those resolutions that we're just determined to make happen: losing a little weight, learning to take more time for yourself, broadening your horizons or something of the like. However, all too soon those hearty resolutions of intent fall by the wayside as life and other things get in the way of achieving our goals and the cycle starts over once again the next year. Instead of getting lost in that endless cycle this New Year why not take one of these 3 trips to help you achieve your New Year's resolutions this year?
Travel Destination: Rome Cavalieri in Rome, Italy
New Year's Resolution: Lose Weight
At Rome Cavalieri you can take a fitness vacation like no other by taking part in the illustrious gladiator training program provided by the beautiful Roman hotel. Learn how to fight like a gladiator in full costume and let your inner warrior come out while getting your heart rate up. The program is taught by the Rome Gladiatorial School instructors who teach about everything from ancient combat techniques to a little history about the Roman gladiator culture.
Travel Destination: Sonoma Valley, California
New Year's Resolution: Slow Down
The Sonoma Valley is known for a rich way of life and a relaxing, slower routine filled with beautiful sunsets, delicious wine and food, and a bevy of attractions that keep tourists entertained in style. Taking a little time to slow down and enjoy life is one of the best things you can down to help relieve stress in your life and learn to enjoy the time you have with friends and loved ones. Sonoma Valley is made up of a large collection of small towns from the popular Napa wine country, often considered one of the wine capitals of the world to the, to Sebastopol where the locals have taken a love of nature, life and the art of relaxing to a whole new level.
Travel Destination: Tikal, Guatemala, Mexico
New Year's Resolution: Learn a Little Culture
Sometimes it can get very easily to get stuck within your own culture and rarely venture out and see what the world has to offer, but if your New Year's resolution is to learn a little culture Tikal National Park is an excellent place to start. The ancient Mayan city known as Tikal is one of the most breathtaking Mayan sites found in Mexico. The sprawling city was the biggest Mayan city and housed around 100,000 to 200,000 people between 200 A.D. and 900 A.D. Temple-Pyramid IV is the tallest of the many temples and buildings through the site and sits at 230 feet high (72 meters) with panoramic view of the surrounding jungle.