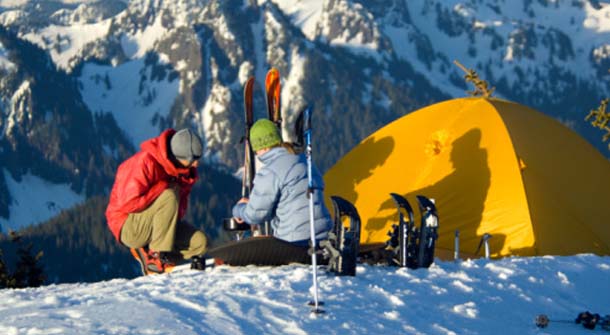 wilderness, Summer's a great time to camp. The sun is shining, the birds are singing, and all is right with the world. It's also an easy time to camp. The only thing you have to worry about is a few mosquitos and a little heat. If you're a true wilderness buff—the kind that craves adventure and a good challenge—camping in the winter can be a great experience.
Wintering the wilderness
That said, winter camping can be dangerous, and should really only be attempted by experienced campers. Hypothermia is a very real possibility, particularly if it's snowing. It's very important to have the right equipment, and to know what to do in a rough situation.
Wilderness Clothing:
Dress in loose layers
The air space between clothing layers adds extra insulation. Layers also let you adjust to a range of different temperatures and weather conditions. Wear breathable or moisture-wicking fabrics, as these will allow water evaporated by your body heat to flow out of your clothing. Your innermost layer should be made from merino wool or thin synthetic fabric. Your middle layer should be an insulating, but breathable fabric like polar fleece or goose down. Your outermost layer should be a wind and waterproof shell. Try to find one that's breathable.
Wool outerwear
Wool coats, socks, hats, etc. is always a great choice, as wool is very warm, even when it gets wet. Bring two pairs each of both gloves and mittens, as well as protective glasses, two pairs of winter boots with a heavy tread, plastic shells to keep snow out of your boots and gaiters to keep precipitation out of them. If you are going to go hiking, bring snow shoes.
Gear You'll need:
Insulated sleeping bag.
Sleeping bags are rated based on temperature comfort levels. For example, if you're going camping in a frigid climate, you'll need a winter/ extreme bag, which is designed for temperatures of 10 below and lower. If you're camping in a milder climate, you'll need a three-season bag, designed for temperatures from 10 degrees to 35 degrees. Sleeping bag liners are also available for added warmth.
Sleeping pads
Sleeping pads are designed to keep you cushioned and insulated from the cold that radiates from the ground. You'll need two of these for winter camping, particularly if it's snowing.
Lighting
Winter nights are long, and lighting is essential. Bring all of the necessary batteries and equipment, and make sure everything is charged and ready to go.
Plastic eating utensils
Ice cold metal utensils = very bad idea.
Stoves and fuel for cooking.
Wood—especially dry wood is scarce in the winter, so you'll need a stove. Bring 1/8 quart of fuel per person per day (plus enough for one extra day, just in case) if you're camping somewhere water's available, and 1/4 quart of fuel per person per day if you're not, as you'll need to use extra fuel to melt snow for water.
A proper tent
Make sure your tent has a roof that sheds snow (to avoid an unpleasant collapse), and enough space for you and your extensive winter gear,