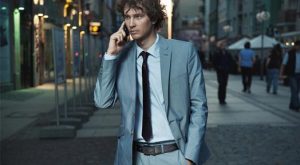 Depending on where you live March tends to be the month where the colds of winter start to mellow out and spring is on the way. It's also that time of year where it's not freezing outside anymore but it's not quite warm out either. The mornings might be cold and windy and by time you reach the afternoon the sun is out and blazing. In some northern states you can look out your window and see sunshine, and think its time to bust out the shorts and flip flops. However, when you step out of your house you get a chill. So what kind of men's spring fashion do real men actually wear for this type of weather?
Layers – The key to being comfortable in unpredictable weather is layering. Wear a sweater over a t-shirt with a sports coat. That way you can peel the layers back as it gets warm and put them back on to stay warm.
Jackets – Not only do jackets flatter your frame and hide imperfections they are great to always have along during early spring. Find a great casual jacket with a heavy cotton or canvas material in a neutral color that goes with everything.
Shoes – When the weather is changing throughout the day its always best to stay cautious and go with closed toe. For casual outings you can choose a sneaker or to dress it up a tad go for an all leather slip on casual shoes.
Denim – When spring hits it's usually not time to break out the shorts quite yet but the right pair or light denim can make all the difference. Choose a fade that is a little lighter since darker denim is usually paired with winter wear and make sure the cut and rise are appropriate for your build.
Add Some Color – Now that winter is finally over you can start to think about your men's spring fashion and thaw out those dark grey and black colored duds and add a little bit of color. Try salmon, yellow or even some bright green but keep in mind moderation and limit your color to one article of clothing. Whether you want to add a pop of color on your polo or your belt don't go overboard or it will throw off your whole look.