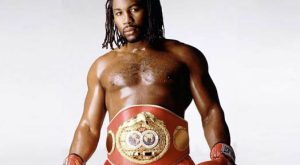 The last boxer to be the undisputed heavyweight champion of the world, Lennox Lewis is thinking of fighting again. For $100 million, he will give it a lot of thought.
Lewis is reportedly being offered somewhere in the neighborhood of $50 million to come out of retirement and fight Vladimir Klitschko, the current WBA, WBO, and IBF heavyweight champion. For $100 million, Lewis said he is most likely in. He has made it clear that he can be ready in six months and has begun a training regimen already.
If the deal pans out, it will be the first fight for the 48-year-old Lewis since his TKO of Klitschko's older brother, Vitali, back in June of 2003. Early in February of 2004, Lewis decided to retire from the sport with a record of 41-2-1, with 32 of those wins by knockout.
For the skeptical boxing fan, recall that capturing a heavyweight title while in your forties has been done before. In 1994, George Foreman defeated Michael Moorer to regain the title that he had lost almost twenty years prior to one Muhammad Ali. Foreman was 45 when he beat Moorer. He would continue boxing until he was 48 when he retired with a record of 76-5.
Lewis has had an amazing boxing career, beginning with his Olympic gold medal in 1988 when he defeated future heavyweight champion Riddick Bowe of the United States. Lewis turned pro the following year and won his first 21 fights in a row. He claimed his first heavyweight title in 1993. He lost that title to Oliver McCall in 1994 then beat McCall in a rematch to reclaim the WBC title in 1997.
In 1999 Lewis met Evander Holyfield in one of the epic fights of all time. With Lewis holding the WBC crown and Holyfield the WBA and IBF titles, the bout would determine the undisputed champion of the world. The match ended in a draw even though most experts believed Lewis won.
The two met eight months later and Lewis won a unanimous decision to become the world's undisputed heavyweight champion.