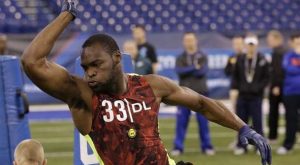 Much of the focus of the 2013 NFL Combine centered around who would emerge as the No. 1 pick going into the draft and Manti Te'O. Te'O, of the dead girlfriend hoax, faced what was thought to be his toughest task – interviews with the press and team's front office types.
Te'O had the chance to wipe away all of the fears related to the hoax with an impressive combine performance. It didn't happen. The former Notre Dame star ran a disappointing 4.82-second 40-yard dash and didn't really shine in any of the other tests and drills. Many scouts were concerned that Te'O lacked the overall speed and lateral quickness to be a great NFL linebacker. Adding in his rather lackluster performance in the BCS national championship game, Te'O's stock has surely dropped.
One of the biggest surprises of the combine came for BYU defensive end, Ezekiel "Ziggy" Ansah. Ansah, at 6-foot-5 and 271 pounds, ran a blazing 4.63 seconds in the 40-yard dash, recorded a 34.5-inch vertical jump, and broad jumped 9-10. He was equally impressive in the position drills and saw his draft status improve by leaps and bounds.
Along with Ansah, SMU defensive end Margus Hunt displayed freakish numbers and unbelievable athleticism, strength, and power. Hunt, a world-class track athlete, stands 6-8 and weighs in at 280 pounds. He ran the 40 in 4.60 seconds, had a 34.5-inch vertical jump and broad jumped 10-1. Hunt left scouts drooling at his potential.
Florida's Sharrif Floyd also won the praises of scouts with his performance in the position drills. The big (6-3, 303) defensive tackle is quick for a big man and changes direction well. LSU's Barkevious Mingo had a great workout running the second-fastest 40 time among defensive ends (4.58). One of the big disappoints of the combine came from Texas A&M defensive end Damontre Moore. At 6-4 and 245 pounds, Moore is a pass-rushing type DE who relies on speed and quickness. He posted a dismal 4.95 seconds in the 40 and mustered only 12 reps on the bench press. By comparison, Josh Hubner of Arizona State did 13…and he's a kicker.