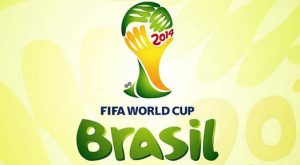 The 2014 FIFA World Cup tournament will begin Thursday in Brazil. The 32 qualifying nations will battle for the next five weeks to see who will be crowned World Cup champion on July 13. The eight groups feature four teams each with the top two teams after group play qualifying for the knockout stage. The top 16 teams in the knockout stage play a single-elimination tournament to determine who will become the new World Cup champion. Spain will have the opportunity to defend its victory in South Africa in 2010. Here are the favorites to win in 2014.
Brazil
The host team should have no trouble winning Group A. They kick off the tournament by facing Croatia and then take on Mexico and Croatia. The 2002 World Cup champions, Brazil features the flashy Neymar and one of the world's best defenders in Thiago Silva. Their coach, Luiz Felipe Scolare, was part of that last World Cup win. Being the host adds some pressure, but should also help the Brazilians as they progress through the tournament.
Spain
The defending champions will play one of the tournament's most anticipated matches as they meet another favorite, the Netherlands, on Friday. Both teams, who met in the 2010 World Cup final, should make the final 16. Spain is loaded with talent and experience as players like David Silva and Fernando Torres return. The Spaniards look to become the first team since Brazil (1958 and '62) to win two consecutive World Cups. The other two teams in Group B are Chile and Australia. The Australians are not considered a threat, but Chile has a shot at sneaking past the Netherlands into the knockout stage.
Germany
The class of Group G is most likely the Germans, which have made it to the semifinals in the past two World Cups. Bastian Schwiensteiger and Philipp Lahm are experienced veterans and will lead Germany into the round of 16. Portugal should be the second team to qualify from the group as it features the world's best player in Cristiano Ronaldo. The Portuguese probably don't have enough depth to win the whole thing but with Ronaldo, you never know.
Argentina
Of the top four favorites to win the World Cup, the Argentinians have the easiest road to the round of 16. Group F features Bosnia & Herzegovina, Iran, and Nigeria. None of the three are considered powers while Argentina has some serious talent including Lionel Messi. While Argentina will qualify for the knockout stage, they must utilize their talent to get past the quarterfinals. They have been beat in the final 8 the last two tournaments.
Games will begin Thursday, June 12, and continue through July 13, when a new champion will be crowned. A total of 64 matches will be played at various venues in 12 different cities in Brazil. For the first time in FIFA World Cup history, goal line technology will be used.