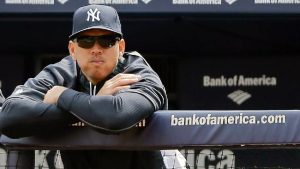 It is likely that Major League Baseball will announce the A-Rod suspension on Monday, along with a dozen other players tied to the Biogenesis scandal. Sources have indicated that the negotiations between Alex "A-Rod" Rodriguez and MLB fell apart over the weekend and league commissioner, Bud Selig, has said that any talks between the two parties are over.
Alex Rodriguez will likely get the most severe punishment of the remaining players to be suspended. It has been said that the Yankees' third baseman will miss the rest of this season and all of the 2014 season as well. Most of the remaining 12 players have already accepted 50-game suspensions.
Selig was very upset with Rodriguez, who publicly stated that he would not negotiate with the league even as his attorneys were busy trying to hammer out a deal to try and avoid a suspension for the entire 2014 season.
Rodriguez has not played for the Yankees this season after hip surgery in January. He is currently taking part in a rehab assignment and on Saturday walked all four times he went to the plate while playing for the Trenton Thunder, New York's Class Double-A affiliate. It is expected that A-Rod will fly to Chicago where he will join the Yankees and play Monday night against the White Sox.
The league is expected to suspend Rodriguez and declare that he cannot play while he appeals the suspension. Selig, as commissioner, does have the power to prevent a player from playing "in the best interest of the game."
A-Rod has stated numerous times that he will appeal any suspension and, should Selig try to prevent him from playing, he will file a grievance against the league
Should the A-Rod suspension stick, Rodriguez would not be eligible to play again until 2015. He would lose roughly $34 million. He is slated to make $25 million for the 2014 season.