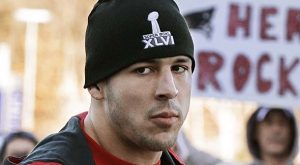 One of the accomplices in the Aaron Hernandez case has told police that he was told that Hernandez killed Odin Lloyd. As court documents were released Tuesday, it was learned that Carlos Ortiz was told by another accomplice, Ernest Wallace, that Hernandez admitted to killing Lloyd. Ortiz says that Wallace told him the day following the murder.
According to those court documents, Ortiz gave the following account of Lloyd's murder. Ortiz, Wallace, and Hernandez picked up Lloyd at his home in Boston and all four men headed to Hernandez's residence in North Attleborough. Hernandez and Lloyd had a disagreement about some people that Lloyd had been hanging around with. The two ended up shaking hands as if to put the disagreement behind them.
Ortiz said the car stopped soon after and the three others got out to urinate. Ortiz heard gunshots and Hernandez and Wallace returned to the car without Lloyd. It was the next morning when Wallace told Ortiz that Hernandez had indeed pulled the trigger.
Hernandez is currently being held without bail. He has pleaded not guilty to murder and five different weapons charges. Ortiz is still in jail after being charged with the illegal possession of a firearm. Wallace, like Hernandez, is being held without bail. He is charged with being an accessory after the fact.
After the initial searches of Hernandez's home, police recovered a rifle, ammunition, and video surveillance equipment. They also found a scale and a dish commonly used in the drug trade. Police have searched Hernandez home on several occasions and have even searched his old New England Patriots locker, but have yet to find the murder weapon.
The court documents released Tuesday also indicated that Hernandez was uncooperative with police in their initial investigation into Lloyd's death. Hernandez slammed the door on police and locked it when they told the former Pats tight end that they were investigating a death.