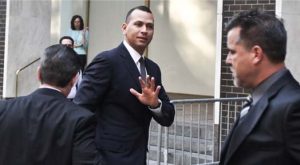 The attorneys for New York Yankees third baseman Alex Rodriguez filed a lawsuit against Major League Baseball countering the arbitration ruling on Saturday that reduced Rodriguez's suspension to 162 games.
The 42-page suit was filed in U.S. District Court claiming that the ruling by MLB arbitrator Frederic Horowitz disregarded the law and failed to entertain any evidence. The complaint also states that Horowitz completely disregarded the Joint Drug Agreement of MLB's Collective Bargaining Agreement. The agreement calls for a 50-game suspension for any first-time drug offense.
Last Saturday, Horowitz issued his ruling which reduced A-Rod's suspension from the original 211 games down to 162, which amounts to all of the 2014 season. Should the Yankees qualify for the playoffs, Rodriguez will not be permitted to play in those games either.
Horowitz stands behind his decision stating that he took into account a few factors which led him to his ruling. The fact that Rodriguez helped to obstruct the investigation into his use of performance enhancing drugs was one factor. Another was the time period in which Rodriguez either used or possessed the banned substances. As a result, Horowitz felt the 162-game suspension was worthy.
The suit is A-Rod's latest attempt at overturning his suspension. Since the investigation into Biogenesis, the anti-aging clinic that provided the banned substances, Rodriguez has claimed that he did not use any performance enhancing drugs.
Anthony Bosch, the owner of the now defunct Biogenesis, stated otherwise in a recent interview on "60 Minutes." Bosch said that Rodriguez approached him in 2010 and asked him about substances that Manny Ramirez had taken. Bosch also admitted to injecting Rodriguez on several occasions since the slugger had an aversion to needles.
While the suit against MLB is what many consider a long shot, Rodriguez and his attorneys believe their case is justified. A-Rod's lawyers believe that the appeal process is flawed, which makes the arbitrator's decision invalid. It is unlikely that a federal court will get involved especially since both the league and Rodriguez agreed to the Collective Bargaining Agreement which governs such matters.