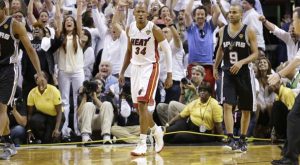 Ray Allen hit a clutch 3-pointer and LeBron James recorded another triple-double as the Miami Heat forced a deciding Game 7 with a 103-100 overtime victory over San Antonio Tuesday.
With just 5.2 seconds remaining in regulation, Bosh pass the ball to Allen on the bottom baseline, stepped back and hit a 3-pointer from the right corner to tie the game at 95-95. Spurs' guard Tony Parker missed a wild runner as time expired and Game 6 went to overtime.
It was James who hit the go-ahead basket with 1:43 left in the extra session keeping the chance for a second consecutive NBA title alive. James, who played the entire second half and all of the overtime, finished with 32 points, 10 rebounds, and 11 assists. He was just 3-for-12 through the first three periods as the Heat went into the fourth quarter trailing by 10.
James' performance is noteworthy as he joins some elite company. He is just the fourth player with at least 30 points, 10 rebounds and 10 assists in an NBA finals game. The others - James Worthy, Charles Barkley, and Jerry West.
The Spurs looked like they had locked up a fifth NBA title as Tim Duncan scored 30 points, the most he has scored in an NBA Finals game since 2003. Duncan scored all of his points in the first three quarters and was shut out the rest of the way. He added 17 rebounds.
The Spurs led by as many as 13 late in the third quarter and had a five-point lead with 28 seconds left in regulation. Kawhi Leonard had 22 points and 11 rebounds for San Antonio and Parker finished with 19 points and eight assists.
Bosh blocked a last-second 3-point attempt by the Spurs' Danny Green. Green entered the game 25-for-38 from 3-point range in the series.
Game 7 is set for Thursday in Miami.