Athletic Director Problems Continue At Rutgers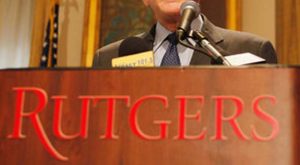 Over the past two months, men's basketball coach Mike Rice and athletic director Tim Pernetti both lost their jobs and now new Athletic Director Julie Hermann has come under public scrutiny. Hermann is set to take over the Rutgers Scarlet Knights' athletic department on June 17 but questions about her past have some in the university administration feeling uneasy.
Rice was let go after videotapes of his practices were released showing Rice abusing, both physically and mentally, his players. Pernetti, who hired Rice, had to go as well since the abuse happened on his watch. The school then began searches to replace the two immediately.
The school found its basketball coach in Eddie Jordan, a former Scarlet Knight player. Rutgers tooted its horn proclaiming they had a Rutgers graduate to lead their program. In another huge embarrassment for the school, Jordan was found to have not graduated from Rutgers.
The university then hired Hermann, a former women's volleyball coach at Tennessee in the late 1990s. The hire appeared solid as Hermann had been behind the resurgence of Louisville athletics – a BCS bowl victory, a men's basketball championship and a runner-up finish by the women, and a baseball team that qualified for the College World Series.
The questions about Hermann now revolve around a letter that 15 former players put together stating that Hermann verbally abused them. Hermann says she didn't and her boss at the time and several other players are supporting her. There is also the issue of a lawsuit by a former assistant coach, Ginger Hineline. Hineline said that Hermann discouraged her from getting pregnant and, when she did, she was fired. A jury awarded the former assistant coach $150,000.
Rutgers president Robert Barchi has given Hermann a vote of confidence, but meetings scheduled for next week have been postponed by university officials. Hermann was set to meet with the other athletic administrators and coaches. No reasoning was given for the cancellation, but it is possible the new Rutgers AD could be out the door just like Pernetti.
Most Recommended