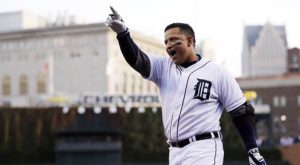 For the second consecutive season, Detroit Tigers slugger Miguel Cabrera was named the American League's Most Valuable Player. Pittsburgh Pirates outfielder Andrew McCutcheon was the National League winner.
In a season plagued by injuries, Cabrera still fought through and led all of baseball hitting .348. His 44 home runs and 137 RBIs were second in the majors. A year after earning the first Triple Crown in baseball in 45 years, Cabrera left many wondering what might have been had he been healthy.
After the All-Star break, the eight-time All-Star appeared to have a lock on a second straight Triple Crown, but suffered from a multitude of injuries that limited him to only two extra base hits over the final 25 games of the season. At the end of August, Cabrera had 43 home runs and 130 RBIs and was batting .359, but injuries to his back, hip, abdomen, and groin prevented the slugger from achieving the milestone again.
Cabrera did win his third straight batting title which puts his name in the same category as other right-handed hitters to win at least three titles. Those names include Rogers Hornsby and Honus Wagner. The Tigers third baseman is also the first player to win back-to-back MVPs since Frank Thomas in 1993 and 1994. No player in the AL has ever won three consecutive MVPs. Barry Bonds won four in a row while with the San Francisco Giants from 2001 to 2004.
Los Angeles Angels outfielder Mike Trout finished second for the second year in a row and Chris Davis, the Baltimore first baseman who led the majors with 53 home runs and 138 RBIs, was third.
McCutcheon received 28 of 30 first-place votes finishing way ahead of Arizona's Paul Goldschmidt and Yadier Molina, the St. Louis catcher. McCutcheon helped Pittsburgh record its first winning season in 20 years and reach the playoffs for the first time since 1992, the last time a Pirate ever won an MVP. That Pirate was Barry Bonds.
The Pirates centerfielder was among the leaders in most statistical categories all season. He hit .317, hit 21 home runs, drove in 84 runs, and stole 27 bases. He became the second Pirate to win a postseason award. Pirates manager Clint Hurdle was named the NL Manager of the Year earlier this week.