Bergeron Leads Thrilling Comeback, Boston Bruins Advance in NHL Playoffs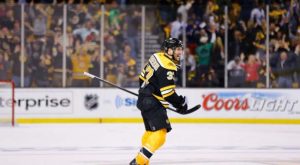 The Toronto Maple Leafs had battled back from being down 3-1 in their opening-round playoff series with the Boston Bruins and with just over half of the third period in the deciding game 7 remaining, held a commanding 4-1 advantage. The Leafs appeared headed to the semifinal round until the Bruins' Patrice Bergeron led Boston on a thrilling comeback, scoring the game-tying goal with just 51 seconds remaining and then the game-winner in overtime, for a 5-4 victory.
The Bruins become the first team in the history of the NHL to win a Game 7 after trailing by three goals in the third period. It was Nathan Horton who cut the lead in half with a goal just about halfway through the final period of regulation play.
Things began to unravel for the Maple Leafs in the final two minutes of regulation. The Bruins would score twice in 31 seconds to tie the game and send it to overtime. Milan Lucic scored at the 18:38 mark, assisted by Bergeron and Zdeno Chara, and then Bergeron brought the Bruins' faithful to their feet with the game-tying goal with just 51 seconds left.
A little over six minutes into the extra session, Bergeron gathered a rebound off of Toronto goalie James Reimer and flicked the puck past him to stun the Leafs and send the Boston TD Garden crowd into a furious celebration.
Boston advances to play the New York Rangers in the Eastern Conference semifinals and will host Games 1 and 2 this Thursday and Sunday. The other Eastern Conference semifinal gets underway Tuesday with the top-seeded Pittsburgh Penguins taking on the Ottawa Senators.
The season ends for a Toronto team that qualified for the postseason for the first time since 2004. Despite the loss, coach Randy Carlyle has the young team on the verge of becoming a perennial playoff contender.
The last, and only, time a Toronto team came back to win a series after being down 3-1 was against the Detroit Red Wings back in the 1942 Stanley Cup finals. The 1942 Maple Leafs actually fell behind 3-0 in that series and are the only team in NHL history to come back from such a deficit.
Most Recommended