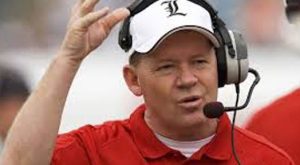 Bobby Petrino, who got his first head coaching job at Louisville 11 years ago, will be introduced as school's new head football coach once again. Louisville athletic director Tom Jurich reported that Petrino has indeed been offered and accepted the Cardinals job left vacant by Charlie Strong's move to Texas.
Petrino has had a well-publicized career for a variety of reasons, one of which is that he knows how to win games. During his first stint in Louisville, Petrino was 41-9 and led the Cardinals to their first-ever BCS bowl win (the 2006 Orange Bowl). He led the program to two conference titles, one in Conference USA and the other in the Big East.
After the 12-1 season in 2006 that culminated with the Orange Bowl victory over Wake Forest, Petrino was hired by the Atlanta Falcons. The Falcons envisioned Petrino as the guy that could develop QB Michael Vick into a more complete player. The problems for Petrino began when Vick's involvement in an illegal dog fighting ring became public. With Atlanta suffering through a 3-10 season Petrino abruptly resigned to the take the head coaching job at Arkansas.
Louisville's new head coach spent four years with the Razorbacks building a solid program that went 21-4 in his last two years, finishing the 2011 season ranked No. 5 in the nation. But, Petrino would wind up the focus of some scandal. He was involved in a motorcycle accident with a female member of the football administrative staff. It was later revealed that Petrino was conducting an adulterous affair with the woman.
After being let go by the Louisville, Petrino would up at Western Kentucky last year where he guided the Hilltoppers to an 8-4 mark including the school's second consecutive victory over Kentucky. As part of Petrino's buyout at WKU, Louisville must agree to a home-and-home series with the Hilltoppers. Petrino will be formally introduced as the new head coach on Thursday.