Boston Bruins Even Series; Ovechkin NHL MVP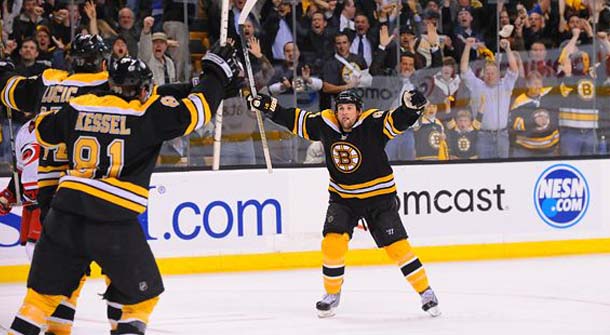 After three overtimes in Game 1, the Stanley Cup Finals again went to an extra session to decide Game 2. Daniel Paille scored at the 13:48 mark in OT and gave the Boston Bruins a 2-1 victory to even the series at one game apiece.
It was another great performance by Boston Bruins goalie Tuuka Rask, who stopped 33 shots in the win. Rask stopped multiple scoring opportunities for the Blackhawks, including a four-shot onslaught prior to Patrick Sharp's wrist shot from the right wing found the net in the first period to give Chicago the early 1-0 lead.
The Blackhawks would not score again and were, for the most part, outplayed by the Boston Bruins. Chris Kelly, who hadn't scored a playoff goal since April 12, 2012, tied the game in the second period on an assist from Paille. It was Boston's first goal in over one hour of play going back to the third period of the opener.
It was the third consecutive overtime game for Chicago who went to double overtime to eliminate Los Angeles in the Western Conference finals. Since the Stanley Cup Finals went to a best-of-seven series in 1939, only four times has the series gone to overtime in the first two games. It happened in last year's finals with Los Angeles winning each of the first two games and, eventually, the Stanley Cup.
The series heads to Boston for Games 3 and 4. Game 3 will be played Monday and Game 4 is set for Wednesday.
In other NHL news, Alex Ovechkin, who plays right wing for the Capitals, captured the Hart Trophy for the league's MVP for the third time. Ovechkin was the NHL's leading scorer with 32 goals in shortened regular season, a feat  he has not done since 2009. The Capitals star, who edged out Pittsburgh's Sidney Crosby, becomes the 8th player in NHL history to win three or more Hart Trophies, joining the likes of Mario Lemieux, Bobby Clarke, Wayne Gretzky,  Gordie Howe, Eddie Shore,Bobby Orr, and Howie Morenz.
Most Recommended