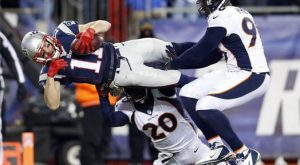 Facing a 24-point deficit, New England Patriots quarterback Tom Brady threw three second-half TD passes and Stephen Gostkowski kicked a 31-yard field goal in overtime to give the Patriots a 34-31 victory over the Denver Broncos.
In the cold, windy conditions in Foxboro, New England lost three fumbles in the first half and Denver's Knowshon Moreno, who finished with 224 yards rushing, led a ground attack that allowed the Broncos to jump out to a 24-0 halftime lead. Denver LB Von Miller returned one of those fumbles 60 yards for Denver's first touchdowns and his forced fumble when he sacked Brady set up Moreno's only TD, a two-yard run in the first quarter.
The second half was a completely different game as Brady completed more than 80 percent of his passes. He connected with Julian Edelman from five yards out for New England's first score about four minutes into the third quarter. When he found Edelman again for a 14-yard TD pass at the beginning of the fourth quarter, the Patriots had done the improbable and taken a 28-24 lead.
New England could have iced the game, but had to settle for a Gostkowski 31-yard field goal with 7:37 to play in the game. Denver QB Peyton Manning, who had just 73 yards passing at that point in the game, then led the Broncos 80 yards to paydirt to tie the game. The drive culminated with an 11-yard TD pass from Manning to WR Demaryious Thomas, who became the first Denver receiver to catch a TD pass in 10 consecutive games.
Neither team could score in the game's final three minutes nor could they muster much offense in the overtime as the wind and cold really had an impact. The overtime period was a battle for field position that ended when Ryan Allen's punt bounced into Denver's Tony Carter and New England's Nate Ebner recovered the ball at the Denver 13-yard line.
Gostkowski then calmly booted his second 31-yard field goal of the game with just 1:56 left before the game would have ended in a tie. Remarkably, earlier in the day Green Bay and Minnesota had played to a rare tie.
In the battle of Super Bowl QBs, Brady finished 34-of-50 for 344 yards and the three touchdowns. Manning wound up 19-of-36 for just 150 yards and two TDs. The Patriots travel to Houston next Sunday while the Broncos face another tough one with division rival Kansas City at Arrowhead Stadium.