Brewers' Slugger Ryan Braun Suspended For Remainder Of Season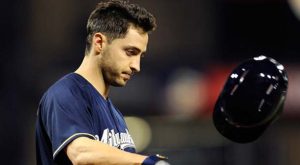 Major League Baseball announced Monday evening that Milwaukee Brewers' slugger and the 2011 MLB MVP Ryan Braun will be suspended for the remainder of the 2013 season for his use of performance-enhancing drugs.
Specifically, Braun has violated the the league agreement in regards to banned substances and performance-enhancing drugs. The Brewers left fielder will not contest the league's decision.
The five-time All-Star will miss the remaining 65 games of this season without pay. The suspension will cost him $3.25 million this year. The slugger is guaranteed $117 million per his contract extension that he signed with Milwaukee in April of 2011.
Braun originally met with the MLB on June 29 but refused to answer any questions about Biogenesis, the anti-aging clinic linked with the distribution of performance-enhancing drugs to Major League players. After realizing the evidence against him, Braun opted for a second meeting with league officials in hopes of striking a deal that would limit his suspension to this season. The plan worked.
More than a dozen players, including New York Yankees third baseman Alex Rodriguez, have been under investigation for their involvement with Biogenesis. Sources close to MLB say that several of the other players will be suspended by the league. The Yankees organization does not expect Rodriguez to be suspended any time soon. It is said that Rodriguez's suspension will be affected by his interference with the investigation.
Braun was a two-time All-American at the University of Miami and the No. 5 pick in the 2005 MLB Draft. He was the Brewers' Minor League Player of the Year in 2006 and was Major League Baseball's Rookie of the Year in 2007. He has made the All-Star team in each of his five seasons and, as said before, was the 2011 NL MVP.
The Brewers, currently sitting at 41-56, will most likely miss the postseason. Braun had missed most of June and a week in July with a thumb injury. He was hitting .298 with nine home runs and 38 RBIs.
Most Recommended