Broncos Win Rematch in NFL Season Opener; Manning Throws 7 TDs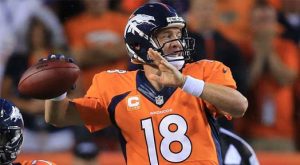 Peyton Manning matched an NFL record in leading the Denver Broncos to a 49-27 win over defending Super Bowl champion Baltimore as the league's season got underway.
The future Hall of Fame quarterback became number six in NFL history to throw for seven touchdowns in a single game. The feat hasn't been done since Joe Kapp did it against Baltimore back on Sept. 28, 1969. Manning wound up going 27-for-42 for 462 yards, the seven TDs and no interceptions.
It has been eight months in the waiting for the Broncos who were eliminated from the AFC playoffs by the Ravens last January. Baltimore won 38-35 in double overtime last January. Broncos were forced to wait the eight months plus another 33 minutes prior to kickoff when a lightning storm nearby delayed the game's official start.
A Ray Rice one-yard run put Baltimore ahead 14-7 with just over eight minutes remaining in the half. Denver then ripped off 28 unanswered points, 14 on two TD passes to newly acquired wide receiver Wes Welker. The former Patriot would catch a five-yard TD pass and then a two-yard TD pass to give Denver a 35-17 lead after three quarters.
The Ravens and their QB Joe Flacco then had to play catch up for most of the second half. Flacco wound up going 34-for-62 for 362 yards, two touchdowns and two interceptions.
After Demaryius Thomas caught a 26-yard TD pass from Manning early in the fourth quarter, Flacco led consecutive scoring drives, a 13-yard TD pass to Marlon Brown and a Justin Tucker 30-yard field goal. The result cut the Denver lead to 42-27 with 5:29 to go in the game.
But, Manning would follow the Baltimore successes with his seventh and final TD pass, a 78-yarder to Thomas to seal the win.
The loss was only compounded by the loss of Baltimore WR Jacoby Jones, who suffered a right knee sprain. Jones' injury leaves Baltimore without any serious threats at wide receiver. Along with Jones' injury, the Raven's lost OT Michael Oher with an apparent ankle sprain.
Most Recommended