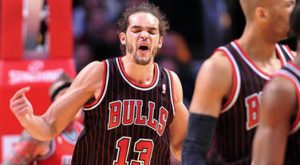 Joakim Noah, center for the Chicago Bulls picked up his second technical foul in the third quarter of last night's game with the Sacramento Kings. By league rule, a player is automatically ejected when receiving two technical in a game. There is no league rule; however, on the number of profanities that can leave a player's mouth. There might have to after Noah's performance Monday night.
Noah went ballistic after receiving the second technical foul and unleashed a slew of profanities on the game's officials. The verbal onslaught came after Noah disputed a foul call with one of the officials. He was promptly issued the technical that got him ejected. Noah had to be pulled away from the officials by his teammates.
The 6-foot-11 Noah threw up more F-bombs than shots on Monday. He was just 1-of-6 from the floor, but did hit both of his free throw attempts. He scored a whopping four points and added four rebounds as the Bulls played their worst game of the season in a 99-70 loss to Sacramento. The Kings are one of the worst teams in the NBA, with a 16-32 record.
The Bulls, as a team, shot just 28 percent from the field, hitting just 22 shots all night. They scored just 12 points in the first quarter and fell behind by double-digit margins early in the game. Noah, selected as a reserve for the East in the upcoming NBA All-Star game, played just 19 minutes. In his absence, guard Jimmy Butler was the only Bulls starter in double figures with 17 points. Noah's counterpart, Kings center DeMarcus Cousins, led Sacramento with 25 points and 16 rebounds.
Noah did apologize and recognized that his tirade may have had something to do with his and his teammates' poor performance. There is no word from the league if there will be any punishment handed down. The Bulls continue their six-game road trip with a visit to Phoenix on Tuesday night.