Celtics Hire Butler's Brad Stevens As Head Coach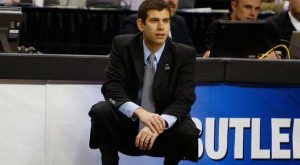 One day you're the head coach of a pretty good mid-major basketball program. The next, you're the head man for one of the most storied franchises in all of NBA history. The Boston Celtics hired Brad Stevens, the head coach at Butler University, as their next head coach on Wednesday.
Brad Stevens reportedly will sign a deal worth $22 million over six years to help guide the Celtics back to NBA prominence.
Coaching Resume
Stevens spent the last six seasons at Butler where he led the Bulldogs to back-to-back national championship game appearances in 2010 and 2011, a remarkable feat at such a small school. He has never won less than 22 games a season and in those six years sports a 166-49 record. Those 166 wins are the most by any Division I coach in the first six years of his career.
Brad Stevens will be NBA's youngest coach at age 36
With the move to the NBA's coaching ranks, Stevens becomes the league's youngest coach at age 36, two years younger than the Orlando Magic's Jacque Vaughn. Stevens' career winning percentage is .772, something the Celtics hope he can do in Boston.
The Celtics entered the market for a head coach after Doc Rivers left to become the head man for the Los Angeles Clippers. Boston has aged since its 2008 NBA title, the 17th in franchise history. Stars Kevin Garnett (37) and Paul Pierce (35) are not only at the end of their careers, they are also leaving Boston and heading to the Brooklyn Nets.
Only second former college had coach to be hired for the Boston Celtics
Enter some youth into the Celtics' organization. Stevens becomes only the second college head coach hired by Boston. Rick Pitino was the other. It's the first time since 1950 that the Celtics have hired a coach without any NBA experience. They did alright with that guy. His name was Red Auerbach.
Whether Stevens can have that kind of success remains to be seen, but the former DePauw University star knows how to win. In his first season at Butler, Stevens promptly won 30 games and led the Bulldogs to the second round of the NCAA tournament. His teams won or shared four league championships to go with the two NCAA runner-up finishes.
Most Recommended