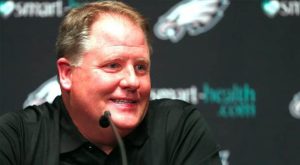 In one of the most intriguing hires of the NFL off-season, the Philadelphia Eagles sought out Oregon mastermind Chip Kelly to revive a dreadful offense and build the organization into a perennial winner.
Kelly, of course, was the head coach at the University of Oregon for four seasons where he amassed an overall record of 46-7 including four consecutive BCS bowl berths, with wins in the 2012 Rose Bowl and the 2013 Fiesta Bowl. He is considered a master innovator in offensive football with his spread-to-run offense based on the zone read option.
The question that everyone wants to know is "can Kelly's offense be successful in the NFL?" Eagles fans, primarily, would love an answer but only time will tell. It will be difficult, as it would be for any coach, to completely turn around an organization and make them a winner in year one. But, it has been done and, with Kelly, the Eagles have someone who was the first Pac-10 coach to ever win an outright conference title in his first season.
Another big question is "who will run Kelly's offense?" The likely choice is Mike Vick, who was benched by former coach Andy Reid late last year. Vick is the type of athletic, mobile quarterback that is desired in Kelly's style of offense. Consider former Oregon QB Dennis Dixon who struggled in the Ducks' offense until Kelly arrived as the new offensive coordinator in 2007. Dixon was the Pac-10 Player of the Year and emerged as a Heisman Trophy candidate that season before being drafted by the Pittsburgh Steelers.
Whether or not the dynamics of the offense are the same, one thing is for sure. The tempo of Kelly's offense will remain the same - hyper-speed. The Ducks ran an average of 84 plays per game last year ten more than the NFL leader, the New England Patriots. Kelly believes in the up-tempo style of play with an emphasis on a mobile quarterback that can throw.
One of two things (or both) will happen as a result - defensive coordinators, especially those in the NFC East, will lose their hair while adapting to a very different style of play and/or teams around the league will mimic Kelly's offense implementing the up-tempo style as well as the zone read. With Robert Griffin III in Washington, Colin Kaepernick in San Francisco, and Russell Wilson in Seattle, the NFL already has three legitimate threats in running the zone read. Who knows, maybe Chip Kelly opens up the league to a whole new approach to offensive football.