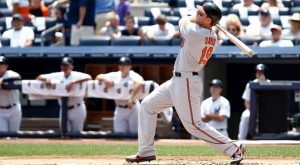 Baltimore's Chris Davis smacked his 37th home run in a 7-4 win over Toronto on Sunday tying an American League record in the process. Davis, who homered in his fourth straight game, equaled Reggie Jackson's mark of 37 home runs before the All-Star break set in 1969.
Chris Davis hit a two-run homer in the third inning Sunday to give him 93 RBIs on the season, second only to Detroit's Miguel Cabrera. Both Davis and Cabrera have hit over 30 home runs and 90 RBIs and are the only players in major league history to have done so before the All-Star break.
The numbers are career highs for Davis, who was elected to play in his first All-Star game. He'll start at first base and was the leading vote-getter. Davis was picked by American League captain Robinson Cano to represent the AL in the Home Run Derby.
A Longview, Texas, native, Davis is on pace to hit 62 home runs and many are debating already whether or not the Orioles' first baseman should be considered baseball's legitimate single-season home run record holder.
Chris Davis made his major league debut back in 2008 with the Texas Rangers, but split time between the minors and majors through 2011. He was traded to Baltimore in July of 2011 along with pitcher Tommy Hunter for reliever Koju Uehara.
In 2012, Chris Davis finished the season with 33 homers and pulled off one of the rarest feats in all of baseball. In an early season game against the Boston Red Sox at Fenway Park, he went hitless in eight at-bats during a 17-inning marathon. Davis played the game as the designated hitter but was forced into action as a relief pitcher in the 16th inning.
Chris Davis struck out two and did not allow a run in his two inning of work and, as a result, was the game's winning pitcher. He was the first position player in the American League to be the winning pitcher in a game since 1968.