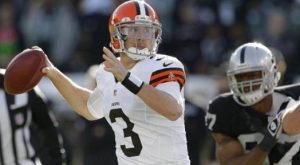 Surprisingly, the Cleveland Browns sit alone atop the AFC North Division after a Thursday night win over Buffalo. The problem for Cleveland and new head coach Rob Chudzinski? QB Brian Hoyer, an Ohio native, suffered a torn ACL that will force him to miss the rest of the 2013 season.
It was just four minutes into the game against the Bills that Hoyer was injured. Hoyer was executing a hook slide to avoid contact after an 11-yard run. As he slid, Hoyer was hit by Buffalo linebacker Kiko Alonso, whose momentum took him right over Hoyer. His knees were caught underneath him while Alonso rolled over them.
With Hoyer out, former starter Brandon Weeden took over, played admirably, and led the Browns to the 37-24 win. The former Oklahoma State star completed 13-of-24 passed for 197 yards and a touchdown.
The Browns will continue with Weeden, who was the starter at the beginning of the season. In the first two games of the year, both started by Weeden, the Browns managed a total of 16 points. Hoyer replaced Weeden and led Cleveland to wins over Minnesota and Cincinnati.
There was some talk of Cleveland possibly pursuing Josh Freeman, the Tampa Bay QB who was recently cut by the Bucs. Several sources have said that Freeman is not an option for the Browns. Freeman had some issues that led to his release after five seasons with the club.
Ironically, in Thursday's game with the Bills, Buffalo's rookie QB E.J. Manuel also went down with a knee injury in the second half. Manuel was hit by Browns' safety Tashaun Gipson. Manuel will miss a few weeks after it was learned that he has a sprain of the lateral collateral ligament in his right knee.