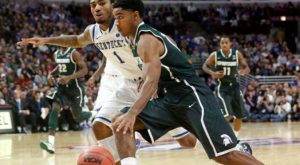 The 2013-14 college basketball season saw the earliest match-up of No. 1 versus No. 2 since 2008 and No. 2 Michigan State jumped to a big lead against top-ranked Kentucky and held on for a 78-74 victory Tuesday night.
Spartans' guard Keith Appling led Michigan State with 22 points, eight rebounds, eight assists, and four steals. MSU jumped out to a 44-32 halftime lead and led by as many as 13 in the second half.
Kentucky then displayed the young talent that earned them that No. 1 ranking. Freshman Julius Randle scored 23 of his game-high 27 points in the second half and pulled the Wildcats to within two points hitting a jumper with 42 seconds left to play.
The Spartans' Branden Dawson scored on a tip-in and another of Kentucky's fabulous freshman, James Young, missed a 3-pointer as the game ended. Young, a 6-6 guard, finished the game with 19 points.
The last time the two top-ranked teams in the country met this early in a season was when Tennessee took on Memphis in 2008. The Memphis head coach at the time was none other than John Calipari, now the Kentucky head man.
Calipari has assembled a group that may be the most talented he has ever had. The last time he had talent like this, he won a national title. Six incoming freshman were McDonald's All-Americans and every single one could be a lottery pick in the NBA draft next year. Randle, at 6-9 and averaging 22.5 points and 15 rebounds a game, could be the first pick.
On this night, though, Michigan State proved that they are one of the top programs in the nation. Head coach Tom Izzo returns six of the team's top seven scorers from a year ago and it showed. Along with Appling, guard Gary Harris added 20 points while center Adreian Payne added 15.
Kentucky drops to 2-1 on the season. Michigan State is now 2-0 and will likely be the new No. 1 when the rankings come out next week.