College Football Playoff Picture Getting Clearer As FSU Beats Notre Dame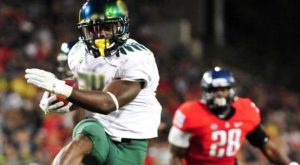 It was another exciting weekend in College Football as Florida State quarterback Jameis Winston hit 15-of-16 passes for 181 yards and a touchdown in the second half to lead the No. 1-ranked Seminoles to a come-from-behind 31-27 victory over No. 5 Notre Dame.
The Irish defense flustered Winston in the first half and helped head coach Brian Kelly's squad grab a 17-10 lead as the first half ended. Winston was constantly harassed and completed just 8-of-15 passes for 92 yards in the opening half. One of those completions was an 11-yarder to Travis Rudolph which tied the game at 7-7 with 19 seconds left in the first quarter.
It was Notre Dame QB Everett Golson who outplayed Winston in the first half and almost led the Irish to a win in the game's final seconds. Golson threw two of his three touchdown passes in the first half, a 1-yard scoring toss to Corey Robinson to open the game's scoring and another 9-yarder to Robinson in the second quarter.
After Winston led a 10-play, 75-yard scoring drive to give FSU the eventual game-winning touchdown, the teams traded punts and the Irish took over possession at the Seminoles' 49-yard line. Golson and Robinson teamed up on a 4th-and-18 early in the drive to keep it going and eventually set themselves up with a 1st-and-goal from the FSU eight-yard line with just 26 seconds on the game clock.
The Seminoles defense held as Golson moved the Irish to the FSU 2-yard line setting up a 4th-and-goal. Golson connected with Robinson on what appeared to be the game-winner with 13 seconds to play, but the Irish were called for pass interference. Golson and the Irish couldn't convert on 4th-and-goal from the 18 and the Seminoles continued their FBS-leading winning streak. Florida State has now won 23 consecutive games.
FSU's win now leaves just four unbeaten teams in the country. Ole Miss, their rival Mississippi State, and Marshall are the others. The annual Egg Bowl will take care of one of the Mississippi schools. Marshall, of Conference-USA, will not be in the title hunt which leaves the Seminoles and, most likely, a host of one-loss or even two-loss teams to play for the national championship.
This will be the first year of the College Football Playoff, a four-team tournament that will decide this year's national champion. A committee will select the top four teams at season's end. Baylor, which was No. 4 a week ago in the latest AP Top 25, lost to West Virginia. Mississippi State, FSU, and Ole Miss will remain in the Top 3 with possibly Auburn or Alabama moving to No. 4.
Most Recommended