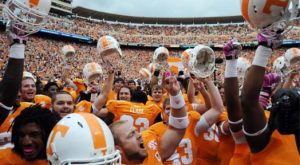 It was a crazy College Football Saturday in the SEC as No. 11 South Carolina was upset by Tennessee and No. 15 Georgia fell to Vanderbilt on the road. Later in the day, first-year Auburn head coach Gus Malzahn recorded the biggest victory of his young career with a 45-41 win over Texas A&M and Mississippi shocked No. 6 LSU 27-24 on a late field goal.
Michael Palardy's 19-yard field goal on the game's final play lifted Tennessee to a 23-21 upset victory over No. 11 South Carolina. It was a huge win for new Vols' head coach Butch Jones. It ended Tennessee's 19-game losing streak versus ranked opponents.
Tennessee, now 4-3, got into field goal range thanks to an amazing catch by freshman Marquez North at the Gamecocks' 26-yard line. The Vols used four straight runs by Marlin Lane to set up Palardy's chip shot as time expired.
The Vols took a 17-7 halftime lead after a six-yard TD reception by Alton Howard from QB Justin Worley and a five-yard run by Rajion Neal. South Carolina, which had won four in a row prior to today's game, rallied in the third quarter with a Mike Davis 21-yard run and a one-yard plunge by QB Connor Shaw. The Gamecocks led 21-20 until Palardy's game-winning kick. Shaw left the game with just under five minutes to play with a sprained knee after being sacked by Tennessee's Daniel McCullers and Marlon Walls.
Vanderbilt scored 17 fourth-quarter points, overcame a 13-point deficit, intercepted Georgia QB Aaron Murray on the game's final play and pulled the upset over the Bulldogs, a 31-27 shocker in Nashville.
The Commodores, now 4-3 overall, got a 13-yard TD run by Jerron Seymour with 2:53 to play to take the lead. Georgia had two opportunities to score but Brendan Douglas fumbled after a reception with 1:59 to play and Murray threw a pick to end the game. Despite throwing for just 114 yards on the day, Murray did break the SEC record for career total offense.
With Missouri's 36-17 win over Florida earlier in the day, the upsets mean that the Tigers are in sole possession of the SEC East and lead the division by two games. Missouri, which will miss starting QB James Franklin the rest of the regular season, faces South Carolina next week.
Auburn RB Tre Mason scored on a five-yard run with 1:19 to play in the game as the Tigers avenged last season's 63-21 blowout loss and defeated Johnny Manziel and Texas A&M, 45-41. The game seesawed back and forth as Auburn took the lead 38-34 with just over nine minutes to play on a Cameron Artis-Payne two-yard run.
Manziel countered with a one-yard run at the 5:05 mark to put the Aggies up 41-38. The reigning Heisman winner drove his team to the Auburn 21-yard line, but was sacked on fourth down with just 11 seconds remaining.
Mississippi led LSU by 17 points midway through the third quarter only to watch the lead slip away as the Tigers' Kenny Hilliard and Jeremy Hill both scored rushing touchdowns. Zach Mettenberger's four-yard TD pass to Jarvis Landry tied the game at 24-24 with 3:19 to play.
In response, the Rebels used the remaining time to march the ball to the LSU 24-yard line in 14 plays to set up the game-winning field goal by Andrew Ritter. The senior connected on the 41-yard attempt with just two seconds left to give the Rebels the 27-24 win. Ole Miss is now 4-3 on the year.