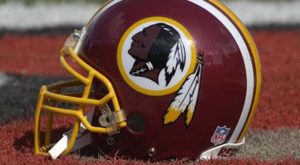 As if Congress doesn't have enough on its plate already, a group of representatives have contacted Washington owner Daniel Snyder asking him to change the Washington Redskins name since many Native Americans find the mascot to be offensive.
The group of ten congressional members, which includes leaders of the Congressional Native American Caucus, drafted letters which were distributed not only to the owner Snyder, but Roger Goodell the commissioner of the NFL and FedEx who sponsor the team, and all of the other NFL teams in the league.
The letters state that using the Redskins name is offensive to many Native Americans much the same way the "N-word" is offensive to African-Americans. Washington isn't the first sports team or franchise to feel pressure from outside groups about their nickname. Major league baseball's Atlanta Braves and the NCAA's Florida State Seminoles are two such clubs.
This isn't the first time that Snyder has been pressured about the changing the organization's nickname. Snyder, a lifelong Washington Redskins fan, has said that he will never change the name. Washington has used the Redskins' name since 1933 back when the franchise was located in Boston and played its home games at Fenway Park.
This also isn't the first time that the Redskins' organization has come under fire from the U.S. Congress. Back in the early 1960s, then-owner George Marshall refused to hire any black employees. Marshall was a known racist and the federal government stepped in and informed the owner that he would not be allowed to play home games at D.C. Stadium. Marshall caved in and brought in all-star running back Bobby Mitchell as the team's first minority player.
The battle over changing the Washington Redskins name has been a long term battle. A group has been seeking make the team lose their trademark protection has been around for years trying to force a name change. Although Snyder did state he has not intention of changing the name, ever, so surely the battle will continue.