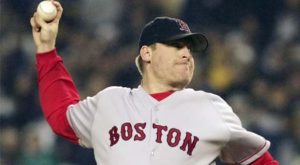 One of baseball's all-time greats has announced that he has been diagnosed with cancer. On Wednesday, Curt Schilling, who now works as an analyst with ESPN, revealed that he has the disease, though he did not specify which type.
Schilling had just recently signed a new contract extension with ESPN to work with the broadcast team on Sunday Night Baseball. What he will do this coming season is still up in the air. ESPN will allow Schilling as much time as he needs and will welcome him back whenever he is ready.
The former major league pitcher has said that he will battle the disease head on. His wife, Shonda, also battled cancer back in 2001. She was diagnosed with stage 2 melanoma and is cancer-free these days.
Schilling, who is now 47 years old, pitched for 20 years in the major leagues with five different teams. His career record was 216-146 and his 3,116 strikeouts are the 15th best of all time. He debuted in MLB back in 1988 with the Baltimore Orioles but came into his own as a member of the Philadelphia Phillies. He went 16-7 and helped lead the Phillies to the World Series in 1993.
He was a six-time All-Star and, after a trade to Arizona, went 22-6 in 2001. That year, he was the World Series MVP as the Diamondbacks were world champions. He won two more World Series titles, both with the Red Sox and may be best known for his clutch playoff performances. Schilling started 19 postseason games and had an 11-2 record with four complete games.
Schilling is no stranger to medical problems. In 2011 Schilling was attending the New York City marathon to watch his wife run in the event. He had chest pains and later found out he did have a heart attack, which necessitated surgery to have a stent placed in an artery.
In 2013 Schilling was eligible for the Hall of Fame for the first time. He did not receive enough votes for election.