Derek Jeter Announces 2014 Season Will Be His Last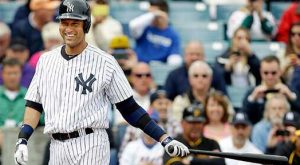 When the 2014 Major League Baseball season ends, a very special era in the history of the New York Yankees will end as well. Long-time shortstop Derek Jeter, an almost certain first ballot Hall of Famer, will retire at the end of the season.
Jeter met with Yankees owner Hal Steinbrenner early Wednesday morning to deliver the news personally and then announced to the world via Facebook that he will be playing his final season in professional baseball.
When the 13-time All-Star hangs up his cleats, it will mark the end of a glorious era in Yankees history. Jeter was a member of the "Core Four," a group of Yankees stars that included Jorge Posada, Mariano Rivera, and Andy Pettite. All four players were drafted by the Yankees organization in the early 1990s and all played substantial roles in the winning of four World Series titles. Posada, Rivera, and Jeter played together in New York for 17 seasons, more than any other group of professional players in any American sport.
Jeter's resume will surely land him in the Hall of Fame. Along with the 13 All-Star berths, he is a five-time World Champion and won the World Series MVP in 2000. He was the American League's Rookie of the Year in 1996 and has won five Gold Gloves. In 2011, Jeter cracked his 3,000th hit, a home run against Tampa Bay, and now sits ninth on the all-time hit list with 3,316.
With four hits, Jeter will pass Paul Molitor and should he finish the season with 200 (he has averaged 255 hits per season in his career), he will leave baseball in fifth place on the all-time list just ahead of Tris Speaker and behind Stan Musial.
Jeter, who played just 17 games last year due to injury, has hit .312 for his career with 256 home runs. Of all the great Yankee baseball players in history, Jeter leads them all in hits, stolen bases, at-bats, and games played. His final series as a Yankee will take place in Boston against the rival Red Sox in late September. Ticket prices are already soaring. Derek Jeter announces retirement.
Most Recommended