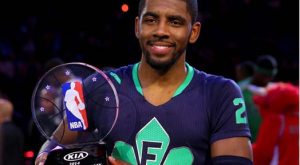 Cleveland point guard Kyrie Irving scored 31 points, dished out 14 assists, and even grabbed five rebounds as the East All-Stars snapped a three-game losing streak in a record-breaking 163-155 win over the West All-Stars in Sunday's NBA All-Star Game.
The game was full of offensive records including Irving's teammate Carmelo Anthony's eight three-pointers. Anthony added 30 points for the winners. The 163 points by the East was the most ever scored in an All-Star game. The previous high was 155 and was done in a double overtime game back in 2003.
The win overshadowed remarkable performances by the West's Kevin Durant and Blake Griffin. Griffin broke the record for most field goals scored by one player with 19. He and Durant each scored 38 points, the third-best in NBA All-Star Game history. They trail Wilt Chamberlain, who scored 42 in the 1962 All-Star Game, and Michael Jordan, who had 40 in 1988.
Griffin was 19-of-23 from the floor, including eight dunks in the game's first 11 minutes, and Durant was an equally impressive 14-of-27. The Thunder forward also made 6-of-17 from three-point range, including one with 1:59 left in the game to give the West a 155-153 lead. Durant and his teammates would not score again.
The West actually held an 18-point lead at one point in the third quarter, but the East whittled away at it and pulled to within three as the fourth quarter started. The winners outscored the West 40-29 in the fourth, including 10-0 in the game's final two minutes.
LeBron James had 22 points, seven assists, and seven rebounds for the East. Paul George chipped in with 18. For the West, Kevin Love added 13 points and nine rebounds, while Stephen Curry hit just 2-of-11 three-pointers for 12 points but he did dish out 11 assists.
In total, there were 11 All-Star Game records broken on Sunday including total points (318). The two teams combined to attempt 100 three-pointers and made 56 of them. Both are new records. Dallas forward Dirk Nowitzki, playing in his 12th All-Star Game, played eight minutes and was the only player that did not score in the game.