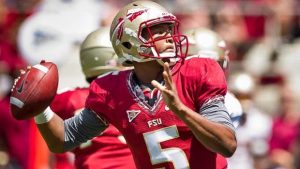 Redshirt freshman phenom Jameis Winston, quarterback of the No. 2-ranked Florida State Seminoles, is now under investigation for an alleged sexual assault that occurred last year. The incident supposedly took place on December 7, 2012.
The lawyer for Winston, Tim Jansen, stated that he was contacted back in February of this year regarding the incident. Winston was never interviewed by police nor were any charges filed in the matter.
The case was closed by the Tallahassee Local Police Department and their Special Victims Unit until it was turned over to the state attorney this Wednesday. The case originated out of a complaint identifying an offender who was said to be between 5-foot-9 and 5-foot-11. Since the matter was of a sexual nature, the case was assigned to the Tallahassee PD's Special Victims Unit.
Winston, is on the roster at FSU as being 6-4, was never questioned by Tallahassee Police nor the Special Victims Unit and denies the allegations. The investigation is now in the hands of the state's attorney and is listed as ongoing according to William Meggs, who is the state attorney for the Second Judicial Circuit of Tallahassee.
The investigation pops up at an interesting time as Florida State is on the verge of completing a perfect season, winning an ACC championship, and potentially playing for a national title. The Seminoles are currently 9-0 with games remaining against Syracuse, Idaho, and in-state rival Florida.
Winston caught the college football nation by storm in his first season. He has played well beyond his years, completing 166-of-240 passes for 2,661 yards and 26 touchdowns. With nine wins under his belt and the statistics to go with it, Winston has emerged as a Heisman Trophy candidate.
The university issued a statement saying that the QB's status with the university and the team remains unchanged. Head coach Jimbo Fisher has verified that saying that Winston is still the FSU quarterback. Since the investigation is ongoing, the university, Fisher, or Winston will not comment on the issue.