Jameis Winston Florida State Wins Without Him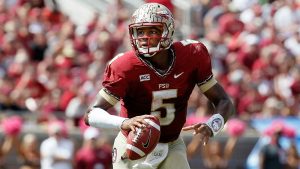 Without Heisman Trophy winner Jameis Winston at quarterback, the top-ranked Florida State Seminoles somehow overcame adversity and defeated No. 22 Clemson, 23-17, in overtime Saturday night. Running back Karlos Williams scored on a 12-yard run in overtime to give FSU the win.
Winston, who has had a series of off field issues, was initially set to miss the first half of Saturday night's game for making vulgar and offensive comments on campus on Tuesday. Late Friday night, the university's interim president, Garnett Stokes, and Stan Wilcox, FSU's athletic director, made the announcement that Winston would miss the entire game. In the wake of the incident, the school had been criticized regarding he initial punishment which was believed to be too light.
Sean Maguire, a redshirt sophomore like Jameis Winston, took over and struggled as many backups do. Maguire threw two interceptions, including one with just 2:14 left in the game. But, the 6-foot-3, 220-pounder from New Jersey, did tie the game with a 74-yard TD pass to Rashad Greene with just over six minutes to play. Greene finished the game with nine receptions for 135 yards.
Maguire's late interception gave Clemson the ball already in field goal range, but the Tigers fumbled the ball away. In overtime, Clemson QB Deshaun Watson hit RB Adam Choice on 3rd-and-14. Choice gained 13 yards to set up a 4th-and-1at the 16-yard line. Instead of a 33-yard field goal attempt, Clemson head coach Dabo Swinney opted to go for it. The Seminoles stopped Choice cold for no gain on fourth down.
On the Seminoles second play in overtime, Williams, who had 45 yards on 10 carries, bounced outside and found the end zone from 12 yards out to give Florida State the win. The Seminoles struggled to run the football. Maguire was sacked five times and the 'Noles wound up with a net of 13 rushing yards for the entire game.
Winston came out during pre-game warmups fully suited up. When Seminoles head coach Jimbo Fisher saw Winston, he was visibly upset and told Winston to leave the field immediately and change into street clothes. Fisher did not comment much on Winston during post-game interviews other than to say that his star will be the FSU quarterback on Monday when the team begins its preparation for North Carolina State.
Most Recommended