Footballs Is Alive and Well In The Magnolia State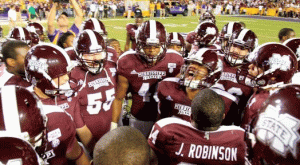 With three consecutive victories over top-ranked Southeastern Conference opponents, the Mississippi State Bulldogs are now the nation's No. 1-ranked college football team according to the latest Associated Press poll. Head coach Dan Mullen's squad leaped past former No. 1 Florida State, receiving 45 first-place votes to the Seminoles' 12.
Mississippi State's fiercest rival, Ole Miss, remains at No. 3 after its convincing 35-20 win over previously 14th-ranked Texas A&M. The Rebels are also enjoying success and are currently 6-0. Third-year head coach Hugh Freeze pulled off one of the school's biggest wins a week ago with a 23-17 victory over Alabama.
Both programs have struggled over the past decade. Neither has been a contender for years playing in arguably the toughest division in the most talented conference in the country. Five of the SEC West's seven teams are ranked in the Top 25. Of the two that are unranked, LSU is 5-2. The Tigers losses are to the top-ranked Bulldogs and No. 6 Auburn.
It is the highest ranking ever in Mississippi State history. Back in 1981, the Bulldogs reached the No. 7 slot and just two seasons ago was ranked in the top ten when Mullen's team started the season 7-0. Mississippi State dropped their final four games and wound up 8-5.
It has been quite a while since either school has won the SEC championship. The Bulldogs won the school's only conference championship in 1941. The last time Ole Miss was ranked No. 3 in the nation was in 1963. That was the same year that the school won its last SEC title.
Florida State fell to No. 2 in the latest AP poll, while Baylor and Notre Dame came in at No. 4 and No. 5, respectively. Ole Miss will play Tennessee at home next Saturday. Mississippi State gets a week off before it faces upstart Kentucky (5-1). footballs
Most Recommended