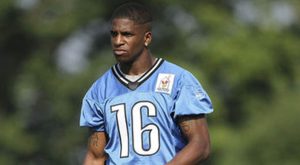 As if things weren't bad enough for Titus Young, former Boise State star receiver and 2011 Detroit Lions' draft pick. Young was arrested this past Sunday…twice.
At 12:01 a.m. Young was pulled over for making an illegal left turn in front of a patrol car. According to the police report, he was then arrested under the suspicion of driving under the influence and later booked by the Moreno Valley (CA) Police Department. Young received a citation and was later released.
Later Sunday afternoon, police responded to a local tow yard where it had been reported that a man was trespassing after he was seen climbing the yard's fence. Police again arrested Young, who was attempting to retrieve his black Mustang. Young was arrested for burglary after police determined that he was trying to retrieve the vehicle without paying the necessary fees.
Young, the Lions' second-round pick in the 2011 NFL Draft, has had a history of trouble both on and off the field. He was suspended by Boise State head coach Chris Peterson for most of his sophomore season after fighting with a teammate. The altercation led many NFL teams to pass on him on draft day. Young had been a three-time All-WAC selection as well as an All-American in 2010 while playing for the Broncos.
While with the Lions in May of 2012, Young was sent home after he sucker-punched teammate Louis Delmas during a practice. In November of the same year, Lions' coaches determined that Young had deliberately lined up incorrectly during a game with the Green Bay Packers. It was the last down he played with the Lions.
Young was released in February of this year and claimed off of waivers by the St. Louis Rams, the only team to submit a waiver claim. After ten days, though, the Rams stated that they wanted to go in a different direction and released Young, who remains a free agent