Former Cowboys DT Josh Brent Convicted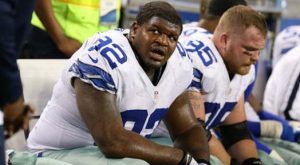 Josh Brent, a former defensive lineman with the Dallas Cowboys, was found guilty on Wednesday of intoxication manslaughter in the death of his teammate, Jerry Brown. Brent now faces sentencing where he could receive up to 20 years in jail.
Brent was driving his Mercedes on December 8, 2012, when he hit a curb and lost control of the vehicle. The car rolled and eventually caught on fire. When police arrived on the scene, Brent was attempting to pull Brown from the wreckage. Police completed field sobriety tests on Brent and eventually ran blood tests to determine his blood-alcohol content. While at the scene, Brent was informed that Brown was dead.
Prosecutors in the ensuing trial argued that the 6-foot-2, 320-pound Brent was intoxicated after having what an expert concluded was 17 alcoholic drinks that night. Brent's blood-alcohol level was measured at 0.18, which is more than double the legal limit. Because of his size, the prosecution claimed, Brent was able to consume more than the average person. For his blood-alcohol levels to be so high, he would have had to have consumed quite a bit.
Brent's defense attorney, George Milner, argued that the blood tests were incorrect and faulty. He stated that Brent did not drink as much as the prosecution claimed and that if Brent was guilty of anything it was "of being stupid behind the wheel of a car."
The jury did not agree. They were presented with video of Brent holding champagne bottles while at the Dallas night club where he and Brown had been drinking. The jury saw the receipts for all of the alcohol that was bought that night and they also saw the police dash camera footage. Brent appears to fail a series of field sobriety tests.
Brent was drafted by the Cowboys in the seventh round of the 2010 supplemental draft. He had played in all 12 games of the 2012 season prior to the accident. He retired from football in July 2013 to concentrate on his trial. Brown was a member of the Cowboys practice squad.
Most Recommended