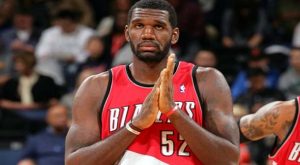 Greg Oden, the former No. 1 overall pick in the 2007 NBA Draft, will sign with the league champion Miami Heat. Oden's contract will be for two years with a player option in the second year.
The Heat had been the favorite to land Oden, who has only played 82 career games since his entry into the league in 2007. With stars LeBron James, Dwayne Wade, and Chris Bosh, Heat president Pat Riley assured Oden that he would not be needed as much early in the season. It was a deciding factor for Oden.
The 7-footer who played at Ohio State, has not played in an NBA game in almost three years. He last appeared in a game on December 5, 2009. Oden has had three microfracture surgeries on his knees, the last of which was in February of 2012. He is still rehabilitating himself and is not 100 percent yet. Oden wanted to make sure that the team he signed with knew that he might not be ready to begin the season.
Oden was a first-team All-American in his only season,2007, as a Buckeye. He and Kevin Durant, also a first-team selection that year, were the first freshman to be named first-team All-Americans since 1990. After averaging 18 points and 11.5 rebounds per game at Ohio State, Oden decided to enter the NBA draft.
He missed his entire rookie season after he underwent microfracture surgery on his right knee in September of 2007. He would play in 61 games in 2008-09 with Portland, averaging nine points and seven rebounds per game. He missed games with a foot injury and a chipped knee cap that season.
Early in the 2009-10 season, Oden fractured his left patella, had surgery and missed the rest of the season. The following season (2010-11), Portland announced the Oden would have microfracture surgery on his left knee, ending his season.
Oden would miss all of the 2011-12 season as well after suffering a setback while rehabilitating. In February of 2012, the TrailBlazers' center under arthroscopic surgery on his right knee and then had a similar procedure done on his left knee just days later. Oden then had to undergo another micro fracture surgery the same month. Portland waived him in March of 2012.