Former NFL All-Pros Diagnosed With Signs of CTE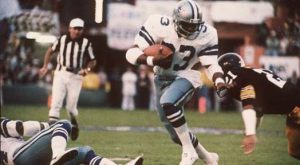 Hall of Fame running back Tony Dorsett is one of three former NFL All-Pros that has been diagnosed with having signs of chronic traumatic encephalopathy, or CTE as it is known, the degenerative brain condition that may have played a role in the death of Junior Seau, who committed suicide last year.
Joe DeLamielleure, a Hall of Fame offensive lineman for the Buffalo Bills, and Leonard Marshall, a former All-Pro defensive end with the New York Giants, were tested along with Dorsett and also revealed signs of CTE. The testing was done at UCLA where doctors found a buildup of an abnormal protein called tau in the three former players. The protein will strangle brain cells that control things like emotions and memory.
Dorsett, who was the 1976 Heisman Trophy winner and played 12 seasons in the NFL, decided to undergo testing when he started experiencing memory loss and depression. Thoughts of depression also crossed his mind. He has had trouble controlling his emotions and will, on occasion, burst out at his wife and daughters. Dorsett finally decided that something had to be done.
The UCLA research team, which includes forensic psychologist Bennet Omalu, psychiatrist Gary Small, pharmacologist Jorge Barrio, and neurosurgeon Julian Bailes, also found signs of the disease in DeLamielleure and Marshall. DeLamielleure, best known for his days blocking for O.J. Simpson in Buffalo, said he never had a concussion during his 13-year career, but guarantees his CTE is from repeated blows to the brain.
The former Bill says he suffers from insomnia, anxiety, and is subject to severe mood swings similar to Dorsett. When he sits for a long period of time, DeLamielleure becomes depressed. He, like Dorsett, knew that he had to do something about his condition.
Marshall's story is similar – memory loss and erratic behavior – and it was enough to make him want to figure out what was wrong. There is no known cure for CTE as of yet, but the research team hopes to make inroads into a discovery. The sample size is small and the testing is in its infancy, but the team is hopeful.
Dorsett, DeLamiellure, and Marshall were all plaintiffs in the massive class-action lawsuit against the NFL that was settled prior to the beginning of this season. The plaintiffs were awarded $765 million in damages as a result of the suit which argued that the league covered up links between football, concussions, and brain damage. As part of the terms of the settlement, the NFL did not admit any wrongdoing.
Most Recommended