Former Stock Car Racer Dick Trickle Found Dead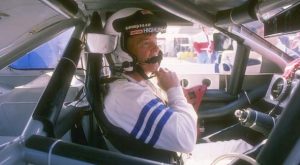 Known for his unique and memorable name, former NASCAR and short track driver Dick Trickle was found dead Thursday from what was reported as a self inflicted gunshot wound.
The Lincoln County, N.C., sheriff's department, recieved a 911 call, supposedly from Trickle, that stated they would find find his deadly body at his location. Workers at the communications center immediately attempted to contact the caller but there was no answer at the other end.
An emergency crew responded to Forest Lawn Cemetery located off of Highway 150 in Boger City. Responders found Trickle's body lying outside of a pickup truck registered to Trickle.
Trickle, 71, has been a resident of Lincoln County from the early 1990s. He made a name for himself as a short-track racer where he grew up in Wisconsin. His exploits on short tracks were nothing short of legendary. It is believed that Trickle has the most wins of any short-track driver in stock-car racing history. He won somewhere in the neighborhood of 1,000 feature races.
The "White Knight," as he was known in Wisconsin, was the NASCAR premier series rookie of the year in 1989 posting six finishes in the top 5 and nine finishes in the top 10. His only NASCAR premier series victory came in the 1990 Winston Open.
Trickle was an important person to number of NASCAR greats, including Rusty Wallace, who called Trickle his mentor. When Trickle was named the rookie of the year in '89, Wallace won his only championship at NASCAR's top level. The two had a friendly rivalry for many years.
An investigation of Trickle's death will begin soon. Lincoln County chief detective Lt. Tim Johnson says an investigation is standard in a case such as Trickle's. According to Johnson, this is not the first time the communications center has received such a call. "It's not the first time we've had these," Johnson said. "It's always a sad situation…even sadder for the family."
Most Recommended