Giants Blown Out, Redskins 0-3, NFL Week 3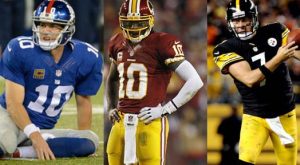 NFL Week 3 action showed us the New York Giants, Washington Redskins, and Pittsburgh Steelers all have something in common. The perennial powers have all started the 2013 season 0-3.
The Giants were shut out, 38-0, by Carolina as Panthers QB Cam Newton was 15-for-27 for 223 yards and three touchdowns. He also ran seven times for 45 yards and another TD. The Giants have 133 yards rushing the entire season. QB Eli Manning was a paltry 12-of-23 for just 119 yards. He was pressured all day by the Panthers' defense and was sacked seven times.
Things didn't go much better for Ben Rothliesberger in Pittsburgh. The Steelers trailed 17-0 in the first quarter, but rallied and pulled within four in the fourth quarter. Pittsburgh could not overcome five turnovers, though. The Bears capitalized on two of them, returning an interception and a fumble for touchdowns in their 40-23 win.
The return of Robert Griffin III has been one of the bigger stories in the NFL during the first part of the 2013 season. Last year's No. 2 overall draft pick has yet to the lead Washington to a victory this year. The surprising Detroit Lions held off a late RGIII rally and won, 27-20. Lions QB Matthew Stafford was 25-for-42 for 385 yards and two touchdowns, the last one an 11-yard toss to WR Calvin Johnson to put the Lions up 27-17 with just 3:56 to go in the game. Griffin finished 32-of-50 for 326 yards.
Elsewhere around the league, the Cincinnati Bengals defeated Green Bay scoring 13 fourth-quarter points to win, 34-30, after being down by 16 points. Trailing 30-14 late in the third quarter, Bengals QB Andy Dalton threw two touchdowns to pull Cincinnati within three. With 3:47 remaining Terence Newman scooped up a Green Bay fumble and returned it 58 yards for what would be the game-winning touchdown.
The New England Patriots and the New Orleans Saints have both quietly won their first three games to move to 3-0. New England downed Tampa Bay, 23-3, while New Orleans had an easy time with Arizona winning 31-7. Miami rallied to beat Atlanta and move to 3-0. Dion Sims caught a one-yard TD pass from Ryan Tannehill with 38 seconds left to cap off a 75-yard drive and the victory.
Most Recommended