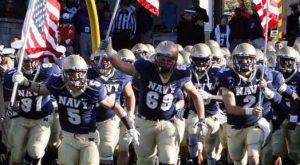 With the United States Congress having problems passing a federal budget, the result may affect college football. The three military academies - Air Force, Army, and Navy - receive funds appropriated by the government, and some of those funds go directly to the academies' football programs.
With the recent battle over the budget and subsequent government shutdown, the academies have had to put a hold on their games coming up this weekend. Air Force plays at Navy on Saturday while Army travels to Boston College.
With the shutdown, the Defense Department decided to suspend all athletic competition at the service academies on a temporary basis as of Tuesday. Decisions will be made later this week whether or not the games will take place this Saturday. The Naval Academy released a statement today stating that a decision would be made by noon this Thursday whether or not the Midshipmen will play on Saturday. Navy did practice on Tuesday.
The government shutdown puts the Air Force-Navy rivalry at risk. The two academies' rivalry dates back to 1960 and the two have played one another every season since 1972.
Navy operates its football program a little differently than the other two academies. The Midshipmen pay for their program entirely with non-appropriated, or non-government, funds. The revenue from ticket sales and television rights covers the costs of running the Naval Academy football program. Both Army and Air Force use some appropriated government money to help cover the costs of football.
The Defense Department is looking into whether non-appropriated funds could be used by Air Force and Army to travel to their respective games. Also, there have been reports of private donors who have offered to pay for Air Force and Army to travel to their games.
The last time a government shutdown occurred during football season all three service academies played games. When the federal government was shutdown between November 14-19, 1995, all three academies played at home.