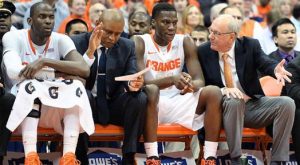 At one point in January, it appeared that the No. 1-ranked Syracuse Orange might go unbeaten. They were tearing through the ACC schedule and on Feb. 1, defeated ACC power Duke in overtime. The ride continued well into Feb. but then the wheels fell off and they are continuing to fall as Georgia Tech stunned the Orange Tuesday in the Carrier Dome, 67-62.
Trae Golden led the Yellow Jackets with 16 points and hit six free throws down the stretch to give Syracuse its fourth loss in its last five games. Since starting the season 25-0, the Orange are 1-4 including two home losses to teams with records below .500.
The streak is nothing new for Syracuse and head coach Jim Boeheim. The Orange experienced an eerily similar stretch last season on their way to the NCAA championship. They lost four of the regular season's final five games. Boeheim will surely hope that what happened last year will repeat itself from here on out. Syracuse won three games in the Big East tournament and then five more to get to the NCAA final where they lost to eventual champion Louisville.
Syracuse will not get there shooting poorly. The Orange shot 39 percent (25-of-64) from the floor including hitting just 5-of-17 three-pointers. In their past six games, Syracuse has shot no better than 40 percent from the field. C.J. Fair led Syracuse with 28 points and freshman Tyler Ennis scored 18 and dished out seven assists.
The Orange played without 6-foot-8 Jerami Grant, the team's leading rebounder. He was resting his sore back. Georgia Tech led by eight at the half and, while Syracuse kept battling they could never overtake the Yellow Jackets. It was Tech's first win in its last five games.
Daniel Miller added 15 points and blocked six shots for Georgia Tech and Robert Carter Jr. added 12 points.