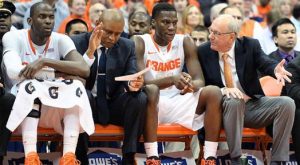 The madness that is the NCAA men's basketball tournament continued Saturday and No. 2 seed Villanova and No. 3 seed Syracuse were both eliminated. The Cinderella run by Dayton continues as the Flyers reached the Sweet Sixteen for the first time in over 30 years.
Dayton (25-10) once again played with poise and pulled the upset of the higher seed. The Flyers were coming off a one-point victory over sixth-seeded Ohio State on Thursday. Head coach Archie Miller and Dayton's defense kept them in the game. The Flyers are now 11-0 this season when holding an opponent to under 60 points.
They almost let the victory slip away. Syracuse freshman Tyler Ennis, who scored 17 of his 19 points in the second half, almost single-handedly brought the Orange back and had a chance to win the game with a three-pointer at the buzzer. Ennis' shot hit the back of the rim and Dayton could breathe a sigh of relief.
Syracuse, in fact, missed all 10 of the three-pointers it attempted and scored only one basket outside the paint. C.J. Fair added 14 points and grabbed 10 rebounds for the Orange. With the loss, Syracuse head coach Jim Boeheim becomes the only Division I coach to lose six times to double-digit seeds in the NCAA tourney.
Second-seeded Villanova couldn't stop Shabazz Napier. The 6-foot-1 senior scored 25 points, 21 in the second half, and UConn, the No. 7 seed, pulled the upset. It was the second victory over a Philadelphia school for the Huskies. They took care of St. Joseph's, 89-81, in overtime on Thursday.
Napier, and Connecticut, had a huge second half that was the death of Villanova. Napier hit three consecutive three-pointers in the span of a minute and a half to give UConn a commanding 51-40 lead with just under nine minutes to play.
Villanova guard Ryan Arcidiacono paced the Wildcats with 18 points. James Bell added 14.
Lasan Kromah came off the bench to score 12 points and nab four steals for the Huskies. DeAndre Daniels, Ryan Boatright, and Terrence Samuel each added 11. UConn will face the winner of North Carolina-Iowa State next weekend in the Sweet Sixteen.