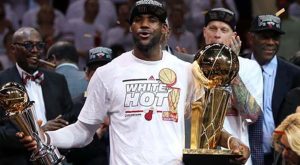 LeBron James scored 37 points and added 12 rebounds to lead the Miami Heat to their second consecutive NBA title with a 95-88 victory over San Antonio. For his performance throughout the series, James earned his second NBA Finals MVP as well.
LeBron James did what he does best; he shines in Game 7. He was 12-for-23 from the field, including 5-for-10 from 3-point range and a perfect 8-for-8 from the free throw line. The NBA championship caps a two-year run where James and company have won two titles, he has captured the two NBA finals MVPs, he was the league's regular season MVP for a fourth time, and don't forget the Olympic gold medal he won.
The King became just the third player in NBA history to win the regular season MVP and the Finals MVP in the same season. Only Michael Jordan and Larry Bird had done it. James joins Jordan as the only players to win back-to-back regular season and NBA Finals MVPs.
It is likely the last time that the core group of Tim Duncan, Manu Ginobli, and Tony Parker will lead the Spurs to an NBA final. Duncan, 37 years old, put up a heck of an effort in Game 7 leading the Spurs with 24 points and 12 rebounds. With San Antonio trailing by two with 50 seconds to play, Duncan missed a shot, grabbed the offensive rebound, and missed again.
Ginobli, who will be 36, scored 18 points and added five assists. The Spurs' rising star, Kawhi Leonard, had 19 points and 16 rebounds.
Dwayne Wade added 23 points and 10 rebounds for the Heat and Shane Battier contributed mightily with six 3-pointers, finishing with 18 points. Battier's performance helped overcome a scoreless Chris Bosh, who had seven rebounds.