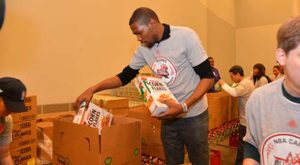 The horrifying images of a city devastated by an EF5 tornado left Oklahoma City Thunder star Kevin Durant wanting to do something to make a difference. The NBA All-Star did so stepping up to pledge $1 million for tornado relief in an effort to help rebuild.
Kevin Durant Kansas City Tornado Relief Efforts
"As the day went on and I saw footage and the casualties and the houses being blown away, it was tough to see," Durant said. "I call Oklahoma City my home. I go through Moore all the time. It's unfortunate. We're going to come together as a city like we always do and we're going to bounce back."
The National Weather Service rated Monday afternoon's tornado at EF5, the highest, most powerful category of tornadoes, based on wind speed and breadth. Winds from an EF5 tornado are the most powerful and violent on Earth. Winds from the Moore tornado were estimated at between 200 and 210 miles per hour.
The deadly tornado, almost identical to one that hit the area in May of 1999, killed 24 people, nine of which were children. The number of deceased was initially reported as 51 but revised on Tuesday. Officials claim some victims may have been counted twice in the confusion. Over 200 people were treated at local hospitals as a result of the devastation.
The Philanthropy of Kevin Durant
Kevin Durant has lived in Oklahoma City for five years. As one of the NBA's best players, he is quickly becoming a pillar of the community. Kevin Durant hopes to return to the city on Wednesday with hopes to raise the spirits of the area. He'll likely visit area hospitals and those affected by the storm.
Durant is not the only athlete with ties to the Oklahoma City area. Mets' pitcher Jeremy Hefner spent the first ten years of his life in Moore and attended Briarwood Elementary School, one of two schools leveled by the tornado. Hefner still has family in the area and reported that all were safe.
Denver Broncos wide receiver Wes Welker is a native of Oklahoma City and reported his family members were safe and sound. Los Angeles Dodgers' star Matt Kemp, a native of Midwest City, has pledged $1,000 to tornado relief for every home run he hits up until the All-Star break in July.