Inaugural College Football Playoff Field Is Set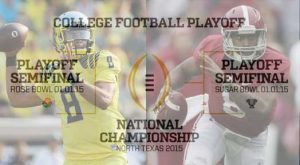 After 15 long weeks, the first-ever College Football Playoff has its four teams. Surely, the 12-member selection committee's top four will draw some criticism.
There was never really any question that No. 1 seed Alabama, No. 2 Oregon, and Florida State, with a win in the ACC title game, would be part of the field. The question, of course, was whether or not TCU, Baylor, or Ohio State would be the fourth member of the tournament.
After a huge 59-0 win over a very good Wisconsin team in the Big Ten championship game, the committee chose the Buckeyes. Urban Meyer's squad will be the fourth seed and face Alabama in the Sugar Bowl, one of the national semifinals this season.
The Seminoles, who held off Georgia Tech in the ACC championship, moved up to the No. 3 seed and will face Oregon in the Rose Bowl, the other national semifinal.
Baylor, which beat No. 9 Kansas State Saturday night, and TCU, a 55-3 winner over Iowa State, came in at No. 5 and No. 6 respectively. The Horned Frogs were ranked No. 3 just a week ago.
Fans across the country will wonder why 11-1 TCU dropped so far. The committee does not rank teams like the AP or the Coaches Poll. Each week, the CFP poll starts with a clean slate and does not reward teams week over week. Florida State is the nation's only unbeaten team but still fell out of the No. 1 slot even though it kept winning. A team's entire body of work is included in the committee's week to week rankings.
As a result, Ohio State's convincing win in the Big Ten title game and the Big 12's lack of such a game wound up hurting both Baylor and TCU. Baylor's win over a top ten Kansas State team also propelled the Bears ahead of TCU, a team that Baylor beat 61-58 during the regular season. Without the win over the Wildcats, TCU had been ranked ahead of its Big 12 peer.
With the season complete, the selection committee was able to determine what it believed were the four best teams in the country. Oregon and Florida State will battle at 5 p.m. on Jan. 1 while Alabama takes on Ohio State later the same day at 8:30 p.m. The winners will meet for the national championship at AT&T Stadium in Arlington, Tex., on Monday January 12th. College Football Playoffs.
Most Recommended